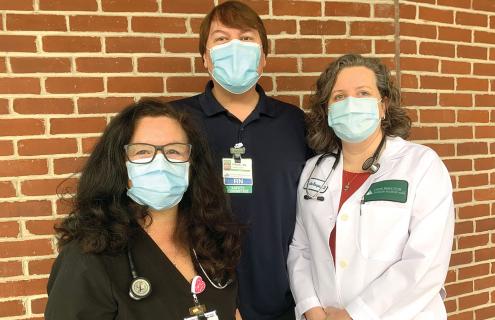 Cheshire Medical Center will start offering patients Urgent Primary Care Visits on our main campus at 580 Court Street, starting Wednesday, Feb. 17, 2021. The "walk-in care" services provided by Cheshire at the Emerald Street location in Keene will discontinue as of this date.
Urgent visits will continue to be available 365 days a year, with the same hours formerly held at the Emerald Street Walk-In Care Clinic. This change allows us to provide extensive health care services in one convenient location. Services include diagnostic services, such as X-rays and lab tests, and an on-site pharmacy so you can easily pick up prescriptions after receiving care. When you arrive, follow the signs for designated Urgent Visits parking on the west side of the Medical Center.
Patients can still "walk in" for urgent visits, however, urgent virtual visits are also available. We can help you decide which is best for you if you call the Urgent Visit team first at 603-354-5484. They will help coordinate your care based on your symptoms.
Relocating urgent visits to our main campus also means that, when necessary, patients needing more aggressive care or additional evaluation have faster access to assessment services such as KARES and to the acute care required. The KARES (Keene Area Respiratory Evaluation Service) unite is where patients experiencing respiratory symptoms, or other symptoms that may be COVID-19, are evaluated.
"We look forward to continuing to care for our patients' acute medical needs, whether in person or via virtual visit," says Marika Henegan, MD, medical director of Urgent Visits and KARES.
"Whether you have an everyday illness such as a sinus or ear infection, or you have a minor injury like a fracture or a cut that needs stitches, we can provide high-quality care quickly. If you have symptoms that may be COVID-19, calling us before you arrive allows us to provide the most appropriate care and help you schedule testing."
Urgent visits will be available to Cheshire patients and community members who wish to establish care with a primary care provider at Cheshire or our satellite locations in Walpole and Winchester. If you don't currently have a primary care provider, we can start the paperwork during your Urgent Visit.
As a Cheshire Medical Center patient, you can conveniently access all your medical records and test results, including the records of your Urgent Visits, and can contact your providers through your myD-H patient portal.
The relocation of urgent visits to Cheshire's main campus and the increase in virtual visit options are examples of how the Medical Center has adapted to continue to provide our patients with the best and safest care, particularly in light of the challenges of the ongoing COVID-19 pandemic.
Since the start of the pandemic, Cheshire Medical Center has taken every measure to ensure a safe and clean experience for everyone. It is important to your overall health that you do not postpone care or ignore symptoms needing medical attention.
Patients experiencing life-threatening symptoms should always proceed immediately to the closest emergency department or dial 911.