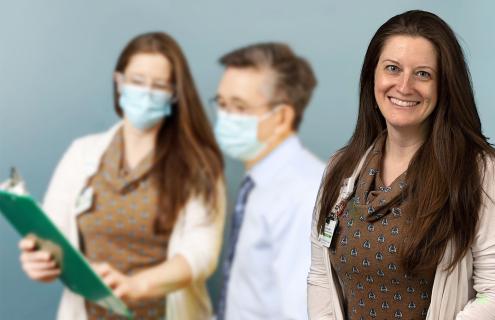 If your health care was interrupted by the pandemic–you're not alone. Whether you postponed your care or we had to delay it due to a COVID-19 surge, now is the best time to contact your providers to catch upon your care. It is especially important to see your primary care provider(PCP), to catch small concerns that may turn into more serious medical problems without attention.
"It has been a scary couple of years in health care due to the pandemic," says Jenna Clark, MSN, APRN, an associate provider caring for patients with Muthutantrige Cooray, MD. "But even skipping only one or two years of preventative visits—I have seen damaging results. So much can happen in a matter of months! Routine check-ins allow us to identify a concern before it causes harm. This prevents you from ending up in a health crisis."
What wellness tests and care are important for me now?
Your PCP is your partner in reducing your chances of developing a health problem, so you can live a healthier, more active life. The preventative screenings, lab tests, and immunizations they may recommend will vary on your age, lifestyle, personal health history, and family health history.
Most of this information will be in your health records and myDH notes, but you should openly discuss your unique lifestyle, health changes and concerns with your provider. If you are at a particular risk for a disease because it runs in your family, your PCP needs to know so they can recommend the best care for you.
As medicine improves and risks change, so does the preventative care available to you. For example, the recommended age to start having regular colonoscopies recently changed—now 45. Many in their 30s and 40s do not know the HPV vaccine, successful in preventing most cancers caused by this extremely common STI in women and men, is available to all under 46 years of age.
What do these test results mean for my current and future health?
When your PCP orders a screening or test, you can check your results via your myDH account. Sometimes you see the results before your doctors do, but their interpretation is important because terms like HDL and LDL and A1C can be confusing and may not indicate what you think they do.
The most important information you need from your provider is not a number, but what the test results mean in the context of your overall health. What does the result mean for your possible future and can you make changes for a better outcome?
"I am real with my patients—describing what uncontrolled diabetes can look like a few years down the line, or the differences in treating colon cancer that is discovered early versus many years later. This helps people understand why it's worth a few extra visits a year to keep their diabetes under control." Roz Vara-Good, APRN
How do my main health fears compare to my personal health risks?
Sometimes what you're most worried about may not be your main concern. For example, while receiving a lot of press, most people are unlikely to contract monkey pox. However, many are likely to suffer from heart disease or diabetes without preventative screenings and consistent attention to their daily choices.
Your PCP is there to help you realistically assess your level of risk for all your health concerns and recommend evidence-based actions to keep you healthy.
"My patients laugh because even though they are here so we can treat knee pain, I will also be telling them to put sunscreen on their nose and to schedule their mammogram," says Clark. "Preventative health care really can save your life."
When should I see you again?*
Visits to your PCP should not only happen when you're feeling sick or injured. The frequency of your regular check-ups depends on your overall health. Their goal is to work with you to find and treat illness before you notice it, and long before it requires lifelong medication or hospitalization.
"Prevention of disease and disability saves patients and their families time, money, and often heartache," says Laura Reyor, MSN, APRN
Men fall especially short at maintaining their health, so need to explicitly ask this question and follow through. By CDC reports, women are 100% better at maintaining preventative care. While some men were raised to view this as a strength rather than an important step to care for themselves and their families, the disparities in disease and life expectancy statistics by gender tell a sadder tale.
Please, don't be that guy. Make an appointment today and put your next appointment on your calendar before you leave your provider's office, no matter what you are there for.
"I find a way to fit preventative health care into all visits because I am passionate about helping people live long and high-quality lives free of diseases and medical conditions," says Clark.
Be that guy—with long, high-quality life—instead.
Cheshire Medical Center is currently accepting new primary care patients from across the Monadnock Region and Southeastern Vermont. Learn more about choosing a PCP with Cheshire
*If you are a Medicare recipient, a mandatory Medicare Annual Wellness Visit is different from an Annual Physical. Learn more about Medicare Annual Wellness Visits