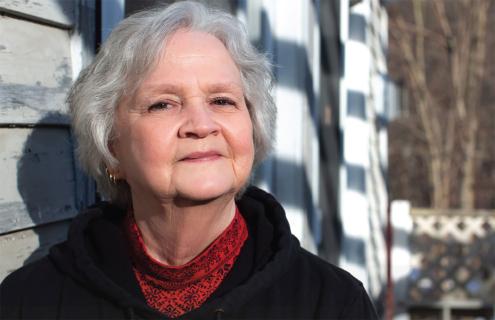 A little more than two years ago, Spofford resident Cathy Schlichting fainted after giving blood through a Red Cross blood drive. Her fall led to a concussion that proved to be fortuitous.
While resting at home from her head injury, Cathy felt a lump near her collarbone. Conscious of cancer risks in her family, she mentioned the lump at an appointment with her primary care physician, Leslie Pitts, MD. Cathy had already lost a brother to lung cancer and a niece to metastatic breast cancer. Her older sister had beaten the disease two years earlier. Dr. Pitts, too, felt the suspicious lump and ordered diagnostic imaging.
"Everything moved really quickly to diagnosis," Cathy recalls. "Every person I encountered, from receptionists to nurses to MRI, mammogram, and ultrasound techs, could not have treated me with more respect, empathy, and compassion."
Cathy immediately noticed—and benefited from—the team approach at the Breast Care Center at Cheshire Medical Center. She also felt grateful for her community as she faced her diagnosis and treatment. Her sister had received successful radiation treatment for breast cancer at Cheshire. The ultrasound technician, whose sons had played baseball with her grandson, held Cathy's hand through her first biopsy. Cathy's granddaughter, Breanna, had worked as a nurse at Cheshire and suggested she see Guy Burman, MD, a surgeon also recommended by Dr. Pitts.
"I felt from the time Dr. Pitts said we will check this [lump] out," Cathy shares, "everything flowed from there, and they were taking care of me down the line."
Dr. Pitts personally notifies patients of biopsy results and was the first link in a supportive chain for Cathy. Dr. Burman, she adds, was another reassuring voice.
Dr. Burman, the Breast Care Center's medical director. "Care of the patient with breast disease involves treatment with…a multi-specialty group with over 20 members. Our main goal is to provide world-class care right here in Keene."
Cathy's care team included Arvind Randhawa, MD, a clinical oncologist known for her medical expertise, along with her compassion and consideration of patient preferences. Cathy says Dr. Randhawa's knowledge and kindness made her immediately trust that she was in good hands.
Before she met Cathy, Dr. Randhawa was familiar with her case, as each is presented to a multidisciplinary Tumor Board. A treatment plan is made with input from specialties that include pathology, radiology, surgery, pharmacy, nursing, family medicine, radiation, and medical oncology. Cheshire patients also benefit from the Medical Center's affiliation with the Dartmouth-Hitchcock Health system; Keene-based doctors often consult with additional experts at other locations, such as Dartmouth-Hitchcock's Norris Cotton Cancer Center in Lebanon, New Hampshire.
"We keep our patient preferences forefront as we develop a treatment plan for them" explains Dr. Randhawa. "I met Cathy during a challenging time in her life. I saw her after her surgical resection with Dr. Burman, and we explored further options of treatment together. A cancer diagnosis can create an emotional and physical upheaval in our lives. I was impressed by how gracefully Cathy went through this."
Born and raised in Spofford, Cathy has been employed as a student services advisor at Antioch University for 16 years. She and her husband, Benny, have been married for 43 years and have three children and four adult grandchildren. The availability of high-quality local care enabled Cathy to benefit from both staff's support at Cheshire and her community. Family and friends accompanied her to treatment. Colleagues offered emotional support when she had to leave work for daily radiation treatments after completing three months of chemotherapy.
"I don't care who you are or what age," says Cathy, who completed her treatment in fall 2019 and is now in remission, "when somebody says cancer, it's scary. People asked why I didn't go to Boston or Lebanon for treatment. I thought about it, but there is this great program at Cheshire. They explained the whole treatment process so I could make an informed decision. You have to have faith in the people taking care of you, and I felt I couldn't ask for better care. I don't believe I would have had the same level of treatment and support anywhere else."
Learn more about Cheshire Medical Center's nationally accredited Breast Care Center. To schedule a mammogram or other breast screening at Cheshire, call 603-354-6580.