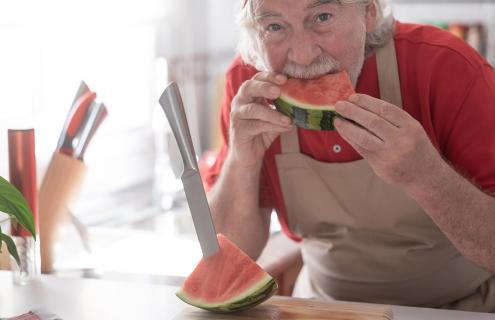 Cheshire County farmers' markets are offering veterans and active service members $20 vouchers for local food at each weekend market during September—the height of our region's bountiful harvest season. A healthy diet, rich in vegetables and unprocessed food, is foundational to good health.
By showing a retired military card, a driver's license with veteran symbol, a VA healthcare card, a "Choose VA" veterans ID card, or a copy of their DD214, veterans who live in Cheshire County can receive a $20 voucher to spend on food at each of these local farmers markets, each weekend in September:
Vouchers are distributed each week at the Veteran Appreciation Month booth at each market on a first-come, first-served basis while funding supplies last. Cheshire County veterans may come back every week for another $20 in vouchers and may participate at all three market locations if they wish. Vouchers may be used to purchase food items only. Vouchers have no cash value, are non-transferable, and must be redeemed at each market respectively by the end of September 2021.
It is a whole experience. Not only are the veterans coming and shopping and getting fresh local food, but they are also getting this community piece and mental health component. They are getting out and getting exercise, talking with people, sharing experiences. It's lovely.

Lola Bobrowski, Cheshire County Conservation District
Cheshire Medical Center's Center for Population Health partnered with the three markets and Cheshire County Conservation District to increase community members' access to healthy foods, an effort that supports the Healthy Monadnock Initiative.
The Veteran Appreciation Month program in Cheshire County is not based on need but instead serves to thank our local service members for protecting our freedoms. The program also helps boost the local farm economy by bringing more business to our local markets - a win/win for the consumer and the farmer!
"Cheshire has a deep commitment to providing opportunities that benefit our community, and this is a great example of partnerships and resources coming together to help positively impact a known community need," says Tricia Zahn, director of community strategic partnerships in the Center for Population Health.
Tricia explains the program is an implementation project of the Food Access & Active Living Priority Area of the Greater Monadnock Community Health Improvement Plan (CHIP), which sets the strategic direction for the Healthy Monadnock Alliance. "Supporting our Veterans Appreciation Program is an important piece of a larger puzzle to continue to remove barriers and increase access to local healthy foods in the Monadnock Region."
For more information about Veteran Appreciation Month at Cheshire County farmers' markets, visit the Veteran Appreciation Month page on the Cheshire County Conservation District website.