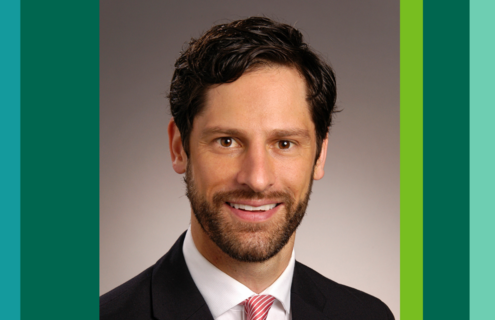 I like people to feel valued, I like them to feel heard. I definitely want people to leave feeling like they were cared for. That's the most important thing for me.
Erik Pattison, MD, urologist at Cheshire Medical Center
When Erik Pattison, MD, left the Urology department at Cheshire Medical Center in 2021, it was at the height of the COVID-19 pandemic, and he wanted to move his wife and young children back to their home state of Indiana. Fast-forward 2 years, and he's returned to Cheshire and is ready to make a significant positive impact on the urologic care we offer.
"I'm definitely looking forward to getting back to the team," Pattison, who worked at Cheshire for the first 5 years of his career following his residency at Dartmouth Hitchcock Medical Center (DHMC) in Lebanon, says. "The small, intimate setting of Cheshire is something I really value. It lends itself to having personal relationships with other departments, and that's the key to having a strong, functional team."
Urologists treat issues with people's kidneys, bladders, and other body parts that allow for healthy urination. For men, urology can also address sexual organ and reproductive health. Understanding how personal these issues can be, Pattison and his colleagues treat their patients with gentle care and sensitivity. They create personalized treatment plans for a wide range of problems, sometimes performing surgery.
Pattison has special interests in general urology, kidney stones, minimally invasive endourology techniques, benign prostatic hypertrophy, hematuria, prostate cancer, bladder cancer, voiding dysfunction and overactive bladder, recurrent urinary tract infections, and vasectomies. Since several of his specialties are problems that affect mostly males in their later years, Pattison's care is well matched to our community's population, and many of his former patients are enthusiastic about his return.
"Erik is one of those special physicians who is not only extremely well-regarded in the hospital, but loved by his patients as well," J. Paul Sanders, MD, chair of Surgical Services at Cheshire, says. "Also, since he trained at Dartmouth (DHMC), he has a good rapport with colleagues there, which allows more integration with that department, helping us as and our patients."
Cheshire welcomed Roland Chen, MD, to Urology in January 2023, and with Pattison's return, the team's capacity now matches our region's demand.
"Having Erik back brings the Urology department back to full strength," Sanders says. "With his broad leadership ability and familiarity with the Dartmouth Health system and departments in the region, I am confident he will solidify that department."
Although Pattison and his wife are both from Indiana originally, and he went to medical school at Indiana University, they moved to the Upper Valley area of New Hampshire for his residency at DHMC and enjoyed the environment.  "We knew nothing about New Hampshire, Vermont, or Maine, until we came up here, and we just completely fell in love with this area," he says. When the job opened at Cheshire after his residency, it seemed like they had come home.
Five years later, with 2 small children and the pandemic in full swing, things looked different. They had no family in the area and found an opportunity at a hospital in the same town as his in-laws, so moving back to Indiana seemed right. The hospital was a similar size as Cheshire with many of the same advantages of a community hospital—but it was not the Monadnock Region. And although the Hoosier State was where they were born, it no longer felt like home. Not anymore.  
"We were in one of the fastest growing areas in the country, but culturally, it's very different," Pattison says. "There are a lot of great things about suburban living and being close to family. But our hearts were really back here the entire time."  
An avid trail runner who enjoys hikes with his family, Pattison adds, "There's an attraction to being in the mountains, being among the trees, being able to hike and bike and ski in New Hampshire. It's so integrated into the lifestyle here. You walk out your back door, and you hit a trail that can take you to Canada. That was a big part of our decision, just our passion for that lifestyle and this area."
Like many other providers at Cheshire, Pattison endeavors to provide quality care that is patient-centered, empathetic, and friendly. And he's excited to get the chance do that here once more.
"I like people to feel valued," he says. "I like them to feel heard. I definitely want people to leave feeling like they were cared for. That's the most important thing for me."