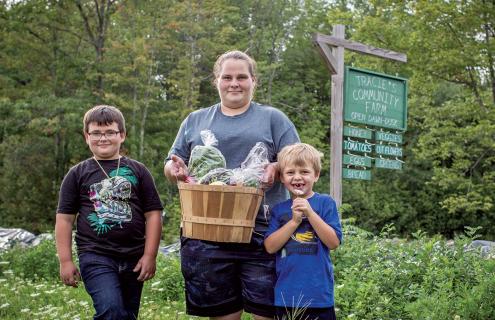 Food choices may depend on personal health goals, taste buds, family history, cultural background, emotional state, free time, or culinary knowledge. However, some lack the ability to choose what they eat without some financial and logistical help.
That's why the Center for Population Health at Cheshire Medical Center teams up with partners like C&S Grocers, local farmers, and non-profits to offer a range of programs that get healthy food on the plates of those who need it most.
One of these partnerships provides farm shares and grocery store gift cards to patients participating in Prescribe For Health, a program helping people of limited means take charge of their own health.
"My boys love vegetables," Ashley Rickey-Hale says of her sons Russell and Joshua, ages 7 and 5. "At the farm, they learn about how different vegetables grow—they always have so many questions." Ashley's family is grateful to have received a sponsored CSA share from Tracie's Community Farm in Fitzwilliam for the last two growing seasons.
"We know these funds make a real difference," says Tracy Clark, who works at the Center for Population Health.
Clark met Rickey-Hale while working in the Medical Center's Women's Health department when the boys were born. Her joy is helping patients like Rickey-Hale invest in themselves and their children for better health.
I can access fresh vegetables that I've never really been able to afford, so I can eat healthier. I've been learning how to cook certain types of veggies I've never prepared before and it has helped me bond more with my sons.

Ashley Rickey-Hale
Cultivating connection through sharing healthy food can be a powerful driver of positive change in people's lives. "Some women receiving these farm shares have even been hosting family-style dinners with their neighbors to pay it forward," says Clark, who hopes to continue the program, pending funding for next year.