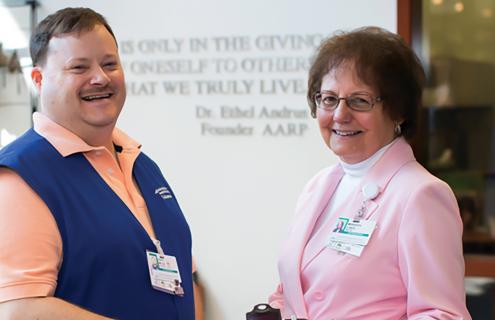 Visitors and staff at Cheshire Medical Center know Scott Willis as the friendly "host" in the Art Nichols Café, moving through the Café ensuring that tables are clean and ready for patients, visitors, and busy staff.
Scott became a volunteer almost immediately after he first came to Cheshire Medical Center in the summer of 2016 when he moved to Walpole, New Hampshire. As an individual living with multiple physical disabilities, including cerebral palsy, spina bifida, and scoliosis, Scott's first order of business was establishing primary care. Scott credits his care team at Cheshire as his inspiration for becoming a volunteer, "I found [a primary care physician] that listened to me and took the time to get me the physical therapists I needed, a neurologist who listened to me, a nutritionist, and a nurse collaborator to put everything together. I was so impressed with how they took care of me and cared for me, I wanted to do something to help back. That's when I came down to the Volunteer Office."
Physical activity is essential for Scott in maintaining his mobility. Volunteer Services staff worked with Colleen Barry, director of nutrition services, to develop Scott's volunteer assignment, stocking condiments and maintaining the environment in the Café to keep him moving.
In the warmer months, Scott splits his time volunteering with working as a cashier at Homestead Farms in Walpole. When the cooler months arrive, Scott volunteers at Cheshire four days a week, weather permitting. Scott also volunteers the first Thursday of every month with his church group serving meals at the Keene Community Kitchen.
We are grateful to Scott for giving of his time and talent to make a difference for our patients and our community, and for generously participating on our Living Healthier Together awareness campaign.