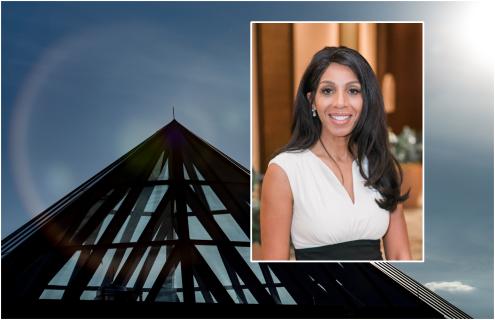 Dartmouth Health welcomes Teresa Dean Malcolm, MD, FACOG, MBA, as vice president of Diversity, Equity, Inclusion and Belonging (DEIB). Malcolm is a physician executive and a board-certified OB/GYN with more than a decade of experience cultivating inclusion in healthcare settings.
"The COVID-19 pandemic and ongoing challenges related to equity, health disparity and creating inclusive and diverse workplaces have highlighted D-HH's need to face these challenges and demonstrate system-wide leadership," said Joanne M. Conroy, MD, CEO and president of Dartmouth Health. "As the vice president of DEIB, Dr. Malcolm will develop and lead an interdisciplinary and cross-departmental office and will be responsible for integrating DEIB values into all aspects of our culture, goals, metrics and strategic operating plan."
"Dr. Malcolm has expertise in creating a compelling vision and translating strategies into actionable solutions to promote true organizational change," said Aimee M. Claiborne, DA, MBA, BSW, chief human resources officer at Dartmouth Health. "Organization-wide and especially in HR, we are committed to fostering a culture of diversity, equity, inclusion and belonging for our employees, but we can't do that without the right leaders in place. Dr. Malcolm is exactly that kind of leader, who will bring a fresh perspective to our academic health system. We are excited to welcome her."
Malcolm most recently served as chief executive officer at the coaching firm Master Physician Leaders. She also currently serves as associate program director for the American Medical Women's Association's Leadership Certification Program. She is a professional certified coach by the International Coaching Federation and is certified to coach executives and healthcare teams to build cultures of inclusion.
"It's the people and the possibilities of Dartmouth Health—helping to design a future that delivers on the humane experience of care, and to be in partnership with the entire community in our DEIB journey that excites me," said Malcolm. "We know that when ideas and contributions are expected from all and then reflected in organizational systems and policies, people become more engaged at work, and I look forward to enhancing and expanding the great work that has already been started at Dartmouth Health."
While serving as a chief medical officer at Banner Health in Phoenix, Arizona, from 2016 to 2019, Malcolm provided clinical leadership to a tertiary care center offering inpatient, emergent and same-day services provided by more than 1,000 specialty physicians, more than 300 advanced care providers and 1,500 associates to meet the needs of a growing community. While in this role, Malcolm directly participated in organizational planning and decision making and was the sole physician member of Banner Health's Diversity, Equity and Inclusion Council. During her involvement on the council, diversity increased significantly at all levels, and team member resource groups provided support to veterans, women in leadership, and multicultural and LGBTQ+ communities.
Malcolm joins the health system on April 4, 2022.
About Dartmouth-Hitchcock Health
Dartmouth-Hitchcock Health (D-HH), New Hampshire's only academic health system and the state's largest private employer, serves a population of 1.9 million across northern New England. D-HH provides access to more than 2,000 providers in almost every area of medicine, delivering care at its flagship hospital, Dartmouth-Hitchcock Medical Center (DHMC) in Lebanon, NH. DHMC was named again in 2020 as the #1 hospital in New Hampshire by U.S. News & World Report, and recognized for high performance in 9 clinical specialties and procedures. Dartmouth-Hitchcock Health includes the Norris Cotton Cancer Center, one of only 51 NCI-designated Comprehensive Cancer Centers in the nation Children's Hospital at Dartmouth-Hitchcock, the state's only children's hospital; member hospitals in Lebanon, Keene, and New London, NH, and Windsor, VT, and Visiting Nurse and Hospice for Vermont and New Hampshire; and 24 Dartmouth-Hitchcock clinics that provide ambulatory services across New Hampshire and Vermont. The D-HH system trains nearly 400 residents and fellows annually, and performs world-class research, in partnership with the Geisel School of Medicine at Dartmouth and the White River Junction VA Medical Center in White River Junction, VT.