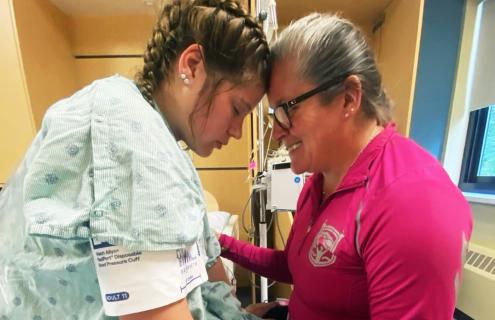 Cheshire Doulas, a team of volunteers who support local parents through the miracle of birth, are always looking for people interested in this rewarding experience, offering frequent information sessions and weekend-long trainings for aspiring doulas. Kerry Kelley, who has supported over 20 birthing people since joining the group, shares her experience.
"My happiest days are when I receive a message and photo from a family I supported, sharing the growth of their baby with me," says Kerry, who gave birth to her own children at Cheshire Medical Center and was a supportive presence at others before she considered becoming a doula. "I have gained new friendships through these experiences, and my memories of each birth are priceless and precious to me."
Kerry, a warm, energetic mom of two, has always been thrilled to hear her friends' birth stories. Many of them suggested over the years that she would enjoy being a doula and that her caring and supportive manner would make her an ideal fit. In 2011, her young niece asked for Kerry's help with her first birth.
"I was more than honored and excited to be with her! Her birth was beautiful, safe, and natural," she says. "I went on to support her a few years later with her second child, but at the time, I didn't know there was a program at Cheshire that gives people doula training to support others."
As it happened, Kerry worked a volunteer shift at the Krif Road vaccination site alongside Janet Chamberlain, PT, WCS, coordinator of Cheshire Doulas, during the spring of 2021. They had time to chat about the doula program, which was resuming after a pandemic-related hiatus.
"Janet explained that if you join Cheshire Doulas, you are a volunteer of the Medical Center," says Kerry. "There is a weekend-long training; you have four on-call days a month, meet families and have follows each month, and get to experience the joy of birth!
"The process to become a volunteer takes about a month for paperwork and background checks before you can attend the doula training, which introduces you to techniques and suggestions to help support someone through labor."
The timing was perfect for Kerry, who explains, "my daughter, Kiara, was due in September, and I thought how wonderful it would be to have this training before then!"
Kerry was able to support her daughter with all her newfound knowledge, to both their benefit. She recommends participating in Cheshire Doulas as fulfilling, inspiring, and often surprising.
"Every birth I've supported has been different—I learn and take something new away from each one," Kerry says. "Working alongside the nurses, midwives, and doctors is amazing, and I have nothing but praise for the work they all do day in and day out. They are so inspiring and always welcoming to me when working with them. Even with a full-time job, busy family, and other commitments, this volunteer program is flexible to all schedules."
If you are interested in becoming a trained volunteer doula who supports expecting parents giving birth at Cheshire, contact Janet Chamberlin for more information at 603-354-5454 ext. 2270 or email jchamberlin@cheshire-med.com.
Cheshire Doulas will be holding an in-person information session at the Medical Center on Oct. 25, from 5 to 6 pm.