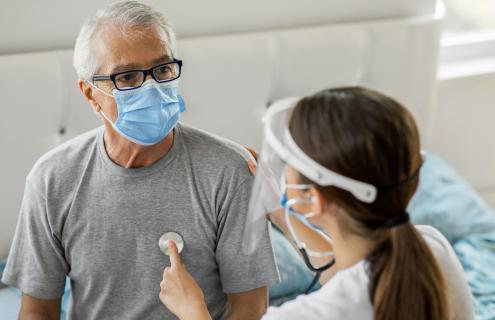 Life can throw us some painful curveballs: sprains and broken bones, cuts and bruises, infections, fevers, and flu. For medical problems that can't wait, some turn to Cheshire Medical Center's Emergency Department (ED) for care. However, Urgent Primary Care Visits are often the best option for conditions that aren't life-threatening.
When to choose an Urgent Primary Care Visit
The Urgent Visits team provides care for non-life-threatening medical problems that could become worse if you wait a day or two to treat them. In-person care can include performing X-rays and lab tests to find out what's wrong. Virtual Visits can include a prescription and recommendations for common problems.
Sprained your ankle while tripping over your dog? Did your 3-year-old lodge a piece of Lego in his nose? Do you think you might have food poisoning or the flu? If life throws problems like this at you, Cheshire's highly-trained Urgent Visit providers can help you today.
All Cheshire patients need to do is call 603-354-5484 to register and take a COVID-19 phone screening. This allows the team to treat you in the safest way possible today—whether that is via phone, video, or at the Medical Center.
Common illnesses and minor injuries
Common illnesses such as earaches, migraines, rashes, urinary tract infections, or thrush
Minor injuries such as sprains, back pain, minor cuts and burns, minor broken bones, or minor eye injuries.
Respiratory symptoms, such as coughs, colds, sore throats, fever, or upset stomach.
If your symptoms may be COVID-19, please call your primary care provider first at 603-354-6760 so they can coordinate the best care for your needs.
More convenient, less money
Urgent visits are available every day of the year, including holidays. As part of Cheshire's Primary Care department, the Urgent Visits team has instant access to the information they need to give you the best care, thanks to shared medical records via myD-H.
Primary care appointments cost less than a trip to the ED and the urgent visits team can usually treat patients with everyday illnesses and injuries sooner. Now that urgent visits have returned to the Medical Center on Court Street, you have the same access to diagnostic testing, lab testing, and the on-site pharmacy that you would while being treated in our ED.
Just walk in: use the Main Entrance, go straight to floor 1A in the north building of Cheshire Medical Center, then check-in at the Urgent Visit window.
How does "triage" affect my treatment and wait time?
Hospital EDs are for very serious or life-threatening problems, such as a heart attack, stroke, or major injury.  
If your health problem is a common illness or minor injury then the Urgent Visit team can likely treat you much sooner than the ED. This is because of a life-saving system called triage.
Triage assigns levels of urgency to wounds or illnesses to determine the order in which medical staff needs to treat patients. In the ED, everyday illnesses and injuries have to be treated after all serious, life-threatening conditions.
"All Emergency Departments treat the most critically-ill patients first. We promise to never delay life-saving treatment to the best of our ability. Many of our priority patients arrive via ambulance because they are very ill, and our staff works hard to do everything possible to provide safe, appropriate care," says Jessica Lussier, director of Emergency Services.
When to call 911 or visit the ED
If you are experiencing any of the following symptoms, don't wait! Call 911 or get to your nearest hospital Emergency Department. Emergency Medical Service (EMS) crews are available and EDs are open 24 hours a day, every day of the year:
Chest pain
Severe abdominal pain
Coughing or vomiting blood
Severe burns
Deep cuts or bleeding that won't stop
Sudden blurred vision
Difficulty breathing or gasping for breath
Sudden dizziness, weakness, or loss of coordination or balance
Numbness in the face, arm, or leg
Sudden, severe headache (not a migraine)
Persistent pain or pressure in the chest
New confusion or inability to arouse
Bluish lips or face, especially with COVID-19
Seizures
High fevers
Calling 911 means one of the local ambulance services can come to you. The EMS (Emergency Medical Service) crew can give pre-hospital care as soon as they arrive, including interventions that could save the patient's life. Then they work hard to keep the patient safe and stable on the way to a local ED for treatment.
No matter where you go for care, be sure to bring a list of the current medications you are taking.
For more information about Cheshire's ED and to learn what to expect during your emergency care visit.
If you are a Cheshire Medical Center patient in need of urgent care, just walk in. Our Primary Care Urgent Visit department is open 365 days a year inside the Medical Center at 580 Court Street in Keene. Our hours are Monday through Friday, 8:00 am to 8:00 pm, Saturday and Sunday, 10:00 am to 4:00 pm, and 10:00 am to 2:00 pm on holidays..
If you do not already receive your primary care from a team at Cheshire Medical Center, Family & Community Care, or our satellite locations in Walpole and Winchester, we can help you start the paperwork during your Urgent Visit. If you receive primary care elsewhere, please call your primary care provider for care or visit Convenient MD in Keene. You do not need to be a Cheshire patient to visit our ED.