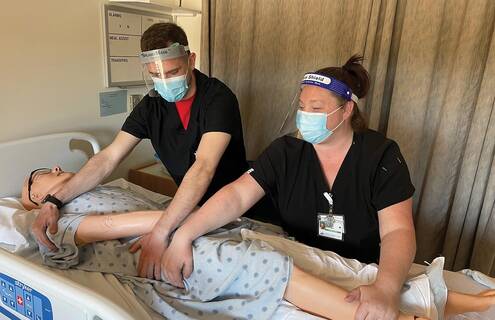 At Cheshire Medical Center, our priority is to hire well-trained, competent individuals to care for our family members, friends, neighbors, and community. Training programs are not plentiful in our region, so we're answering the call and building our own.
We focus on developing educational opportunities and career training programs that expand the skillset and expertise of our current employees so they can advance their careers. Cheshire also has been expanding its workforce development programs that train individuals in collaboration with Dartmouth Hitchcock's Workforce Readiness Institute (WRI).
"With these training programs, we are able to ensure that our organization has the workforce we need and that our staff have the skills needed to serve our community," says Anthony McLean, DEL, RN, FACHE, NEA-BC, Cheshire's director of inpatient services. "These programs are absolutely essential to the continued success of our mission."
Nurse Assistant training programs
Cheshire offers a Nurse Assistant Trainee program on-site for individuals to become Licensed Nurse Assistants. The program may include Cheshire employees, as we hire individuals into the programs or they are current employees that transfer. All programs are taught by an instructor from LNA Health Careers right here on the Cheshire campus.
Candidates for the program apply and, if accepted, are paid a training wage during the 120-hour program. Upon successful completion, the participants work as Licensed Nurse Assistants in our inpatient units for a minimum of one year in return for Cheshire's sponsorship of their tuition and testing fees.
Our Nurse Assistant training programs are offered four times a year. To learn more about the LNA trainings and register for the next online info session, visit WRI's LNA page or call Melissa Gartman at 603-354-5454 x2481.
Medical Assistant Apprenticeship training program
Cheshire's on-site Medical Assistant Apprenticeship training program — an 11-week, US Department of Labor Registered Apprenticeship — is offered annually. Students who successfully complete the program earn 25 credits from Colby-Sawyer College, and can earn an additional 21 college credits during their 2,000-hour apprenticeship for free.
Trainees can use the credits earned toward completion of an Associate of Science in Health Science (60 credits) at Colby-Sawyer. While pursuing their degree, Cheshire employees can use their tuition reimbursement benefits, potentially paying minimal — if any at all — out-of-pocket expenses to earn their degree.
Upon completion of the classroom training, the student must pass a national exam to become a Certified Clinical Medical Assistant, then complete a 2,000-hour apprenticeship where they are evaluated on behavioral and technical competencies. Cheshire employees have a 100% pass rate on the national exam.
In addition to these programs, Cheshire also collaborates with WRI to offer training programs for Surgical Technologists, Pharmacy Technicians, and Phlebotomists. To learn more about the MA and other training programs, visit the WRI website or call Melissa Gartman at 603-354-5454 x2481.
Opportunities for LNAs, MAs and other healthcare professionals
Nurse and Medical Assistants are the heart of medicine and the foundation of the care teams that provide care to our patients. Cheshire is always hiring a range of clinical positions across inpatient, outpatient, family and specialty areas. Visit our Careers website for more information about working at Cheshire, or search for open positions.