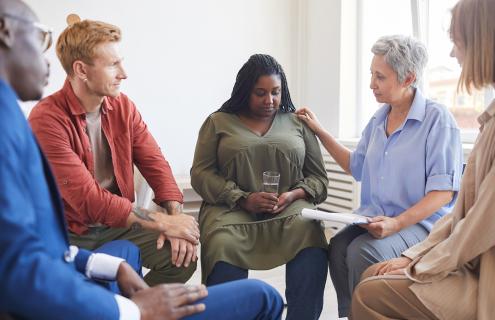 You don't have to bear your struggles alone—support from people who understand what you are going through can make all the difference.
Winter can be especially hard for people struggling with difficult feelings, isolation, grief, anxiety, or the addictive behaviors we often use to cope, such as overeating or substance misuse. Many people are also seeking support to heal from pandemic-related anxiety, changes and loss, yet it can be challenging to find and afford a personal therapist or coach.
Try group support to help you heal
"Support groups or group therapy can be remarkably helpful for people going through a rough time," says John Letendre, LADC, continuum of care facilitator for the Monadnock Regional Public Health Network. "People often find that sharing their burdens with others who have faced similar challenges to be very helpful in the process of coping and healing. This is true for just about any issue presenting a problem related to physical or behavioral health."
Some may be nervous about joining a group and want to simply listen at first. But over time, contributing their own ideas and experiences helps people get the most out of both peer support and group therapy.
Evidence consistently shows support groups are effective for those with physical and mental health conditions. A review from Mental Health America (PDF) shows peer support increases quality of life, increases engagement, decreases substance use, and increases overall health. While a quick google search yields online peer support, many prefer in-person groups.
Local resources for group support
Monadnock Peer Support (MPS)
MPS in Keene offers people free support for almost anything you may be struggling with.
Peer Support is about having relationships with others in new and different ways that promote growth, recovery and wellness. Groups are facilitated by peers with life experience with the topic rather than a clinician. In this way, MPS serves as an alternative that complements and supplements the traditional mental health system—promoting wellness and recovery, as defined by the individual.
"People often tell us they get more out of talking with their peers in the group than they did in therapy," says Stacy Wilbur, Program Director. "You don't have to be a member to attend groups, but once people take a tour and see what we offer, they usually want to. It is free and we welcome everyone."
Over 40 support groups meet in person at MPS in Keene or via Zoom. They include topics such as anxiety & depression, chronic pain, codependent relationships, isolation, LGBTQIA+, trauma survivors, grieving and activities such as chair yoga and zumba.
MPS also offers a respite program for people experiencing crisis and who are at risk for potential hospitalization due to mental health challenges. Learn more about MPS at the Monadnock Peer Support website or call 603-352-5093.
Local listings: support group and behavioral health resources
The Monadnock Ledger and Be the Change Behavioral Health Task Force, a group of concerned citizens and organizations in Cheshire and western Hillsborough County, recently assembled a list of support groups and resources available locally.
"We understand that navigating where to go and what next steps to take is not an easy task," says Letendre, who is also a member of Be the Change. "We hope you find this publication useful and share it with family and friends who may need it."
"Our task force focuses on educating and promoting local resources for prevention, treatment and recovery from substance use disorders and behavioral health challenges," says Letendre. "If you would like to get involved and be a part of our effort, please contact me at 603-354-5454 X2378 or jletendre@cheshire-med.com."
Support groups for SUD recovery with The Doorway
The Doorway at Cheshire Medical Center helps anyone seeking help with substance use disorder (SUD). People recovering from opioid misuse usually find the combination of structured group therapy and Medication Assisted Treatment (MAT) is the best outpatient support for maintaining sobriety and healing their lives. Building healthy relationships with people who turned to substance use for the same reasons helps people recover and grow together.
The Doorway's outpatient group therapy is for people in recovery from SUD. Group topics include thinking for good, anger management, mindfulness, DBT skills, and seeking safety.
To learn more about joining a group, call 603-354-6675 for an appointment with a clinician who can assess if their groups are a good support for you.
"Doorway groups provide client-centered clinical care in a supportive environment, while fostering connection and mutuality" Marty Barnard LCMHC, MLADC Clinician
If you are experiencing an addiction crisis or seeking help for substance use, the staff at The Doorway are here to help you. Recovery is real, it's great, and it's available today by calling 2-1-1 or visiting the Keene location at 24 Railroad Street.
If you're experiencing a mental health crisis or suicidal thoughts, call the Suicide and Crisis Lifeline at 9-8-8 for free, confidential support 24/7.