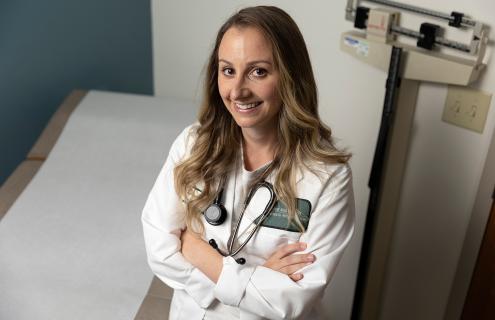 Coming from a family of nurses, Tanis Ferreira, MSN, APRN, always seemed destined for the medical field. But it wasn't until a pair of trips to work in a medical clinic in Haiti—one after an earthquake in 2011, the other following a hurricane a few years later—that she found her calling.
"I felt I couldn't help them as much as I wanted to," Ferreira says. "I wanted to learn more and expand my skill set, and the only way to do that was to go back to school and become a nurse practitioner."
So that's exactly what she did.
With a B.S. in Nursing degree from Colby-Sawyer College, Ferreira had already spent 6 years combined in the hematology-oncology units at Dartmouth Hitchcock Medical Center in Lebanon and then at Cheshire.
"I transitioned to the inpatient step-down telemetry unit while I did my master's program," says Ferreira, who received financial assistance from Cheshire. "I studied at Rivier University and graduated in 2021. I was fortunate to do all my clinicals at Cheshire, so it was an easy decision when they asked me to work here after graduation."
A decision made even easier because Ferreira grew up in Cheshire—personally and professionally. Raised in Walpole, she now lives in Westmoreland with her husband and their 2-year-old son.
"Now I have the opportunity to provide care to my community," she says.
There are still humbling days. "Coming from being an experienced registered nurse with 10 years of experience to a novice provider is hard, but I have a great team and feel supported every day," she says.
Ferreira is hitting her stride in her new role as an APRN in Family Medicine, where she's partnered in a teamlet with Teresa Woodside, MSN, APRN.
"My advice to other nurses is to keep going," she says. "It gets hard, but now that I've earned my degree, I see those hard days are worth it to be where I am now."
At Cheshire Medical Center, we are always looking for great people to join our diverse team, from environmental services techs to nurse assistants and surgeons. To learn more and view open positions, visit our Careers website.