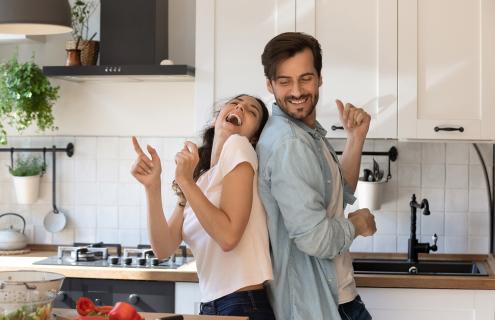 "What a year. We are worried, anxious, sad, and frazzled. In a word, stressed. I spend a lot of time talking about food and stress in my nutrition counseling appointments," says Ruth Goldstein, MS, RD Outpatient Registered Dietitian with Cheshire Medical Center.
"There are so many things we can do to help with stress. The trick is we have to make ourselves the number one priority," Ruth says. "So many of us are caregivers: nurses, doctors, teachers, parents. We become stuck in the idea that someone else needs our time more than we do."
A few tips to help with stress
Don't skip meals
Food is the fuel that balances our blood sugar. Steady blood sugar helps keep our mood stable, gives us energy, and helps us stay focused. Plan to eat breakfast, lunch, and dinner every day. If your meals are more than 4-5 hours apart, you'll likely need a snack.
Boost your protein
Try a protein-rich breakfast like eggs on toast; greek yogurt, berries and walnuts; or a smoothie with hemp hearts, flax, peanut butter or yogurt, fruit, and almond milk. Tired, cranky, or frazzled at 3 pm? Have an afternoon snack with protein, like carrots and hummus; cheese, crackers and an apple; or peanut butter on a banana.
Watch caffeine and sugar intake
Sugar and caffeine can make stress worse. Too much caffeine and sugar cause blood sugar spikes and crashes. This leaves us hungry, shaky, spacy, anxious, tired, and reaching for more caffeine and sugar. Next time you reach for a candy bar and a large coffee at 3 pm, try some water and a snack with protein instead. Nuts and dark chocolate chips are sweet and salty with protein and fat to boost energy. Ready to give up soda? Try Spindrift - a brand of fizzy water flavored with fruit juice - instead.
Slow down and breathe
Take a few belly breaths before each meal. Put one hand on your chest, and one hand on your belly button. Imagine a balloon in your belly. Inflate that balloon when you breathe in. Allow your belly to deflate when you exhale. This will help your body and brain relax and also cue your digestion that food is coming. As a bonus, this can help prevent bloating, gassiness, and reflux after eating.
Dance it out
Try Body Groove, which includes fun and easy 5-minute dance routines that stream to your phone or other device. Joyful movement helps to flush out stress hormones and increase feel-good hormones. Take a five minute dance break, and I guarantee you'll be smiling at the end.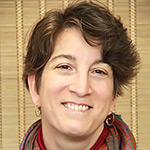 Ruth Goldstein MS, RD is part of a team of three Outpatient Registered Dietitians with Cheshire Medical Center at 149 Emerald Street in downtown Keene. To book an appointment with one of the outpatient RDs, call 603-354-5476 or visit our Nutrition Services page.