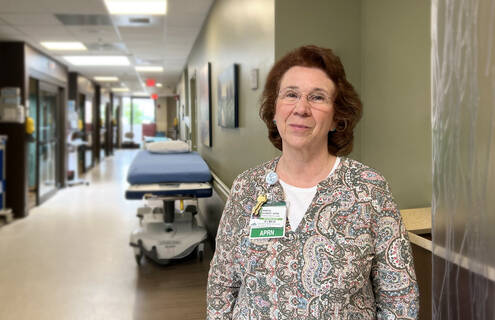 We need to use the same nursing process with psychiatric patients that we do with medical patients, starting with an accurate assessment and good evaluation of whether our interventions are working.
Sara Gilbert, PMHNP-BC
Nationally, rates of patients in crisis seeking mental health care in Emergency Departments have risen dramatically since the start of the pandemic, and the Monadnock Region is no exception. This trend makes the work of Sara Gilbert, PMHNP-BC, a psychiatric nurse practitioner overseeing Cheshire Medical Center's Behavioral Health Team, even more vital.
"One of the things I've tried to do at Cheshire is to integrate medical and psychiatric care," Gilbert says, highlighting the different approaches some take while caring for people experiencing symptoms of psychiatric and physical illnesses. "We don't want to have psych in one box and medical in another, with the two disciplines never really being coordinated."
Gilbert achieved this, and much more, in her 30 years at Cheshire. Starting as a psychiatric technician in the former mental health unit with a Master's degree in Clinical Counseling Psychology from Assumption College, she could see where psychiatric patients could be better served by more intentional integration. She was inspired to pursue a nursing degree from River Valley Community College, after which Gilbert became an Emergency Department (ED) nurse. 
"I wanted to give myself more options to care for patients, so I went to nursing school," Gilbert says. "My first rotation was in the ED, and I realized just how many patients needed psychiatric care there. I just fell in love with the ED and immediately knew that's where I needed to go."
When Gilbert started working in the ED, she noticed that many patients seeking psychiatric care assumed they would be treated badly. She found that their prior experience in EDs led them to be mistrusting, anxious, and potentially agitated or aggressive—an unsafe situation for both the patient and staff. 
"At conferences, I learned a lot about what happens to psych patients in other EDs and would hear horror stories from some of the nurses," she says. "The sad thing was that they did not understand that these were horror stories. Some of the punitive techniques they used, such as catheterizing patients who would not give a urine sample, were just really terrible." 
Presenting at nursing conferences—such as the Emergency Nurses Association, American Psychiatric Nurses Association, and the International Association of Forensic Nurses—was an eye-opener for Gilbert. She found a huge gap in knowledge about psychiatric patients in EDs, leading to misunderstandings and mistreatment, and set out to close that gap with her presentations. Using analogies to medical diagnoses, such as comparing chronic psychiatric illnesses with chronic conditions like diabetes, she was able to reach her audience.
"We need to use the same nursing process with psychiatric patients that we do with medical patients, starting with an accurate assessment and good evaluation of whether our interventions are working. For psychiatric patients, our interventions are often our interactions," Gilbert says. "It is easier, safer, and we have better outcomes when we raise our standards for psychiatric care to the same level we have with medical patients. This mindset totally made sense to nurses at the conference, and they understood what they needed to do differently."
Gilbert's presentations and workshops were so well received that she was asked by the editor of Advanced Emergency Nursing Journal to write 2 articles about appropriately caring for psychiatric patients in the ED. She went on to receive her Master of Science Nurse Practitioner (NP) certification from Rivier College and launched Cheshire's Behavioral Health team with psychiatrist Judith Olson, MD, about 7 years ago. Staffed by Master's level clinicians, the team facilitates the care of ED psychiatric patients, integrates psychiatric care for medical inpatients, and educates staff on the care of psychiatric patients.
"When I started this role, people were surprised that I had different expectations and treatments for patients for different psychiatric presentations, such as psychosis, mania, anxiety, and depression," Gilbert says. "Staff have a better understanding now. We don't treat every patient who comes in with shortness of breath the same way. We find out what is causing the symptoms and how best to manage them. It should be the same kind of treatment model for psychiatric symptoms." 
The Behavioral Health Team initiated more effective coordination of care with Monadnock Family Services, the local community mental health provider where Gilbert did clinicals during her NP certification. They managed to decrease the number of patients struggling with psychiatric symptoms in the ED and their lengths of stay.
"When I began working as an NP in the ED, I would collaborate with patients to initiate medications to stabilize them while they were waiting for hospitalization," Gilbert says. "They were in less distress in the ED because of that intervention, and many times I was able to discharge them versus them being admitted. It's also safer for the patients—and for the staff."
Matt Dove, FNP-BC, PMHNP-BC, a psychiatric nurse practitioner working on the Behavioral Health Team says, "Sara has been a pioneer in the idea of serving people where they are in the Emergency Department, versus letting them languish there waiting for care. I've worked in 5 states, and I've seen lots of emergency departments, and what Sara introduced was very unique at the time. As we see an increasing psychiatric crisis in our country, and we continue to see increasing demands on the emergency department, Sara has already built a solution that I think will become a standard of care."
Gilbert has worked hard to change the ED's culture and to train staff to recognize psychiatric symptoms and respond appropriately. 
"I really want to focus on early intervention for prevention of aggression," she says. "So I've done education around intervening when a patient is anxious: how to talk to the patient, calm them down, and de-escalate. Anxiety is often the precursor to agitation, which can lead to aggression. It is easier to intervene when the patient is anxious."
Jim Suozzi, DO, associate medical director and EMS director at Cheshire, says that Gilbert's role has been a critical one to fill, as the behavioral health system in New Hampshire "has been at a breaking point for years."
"We are at a point now, where both children and adults may wait days or weeks in the Emergency Department for a bed at the state facility," he says. "Sara's work with the Behavioral Health Team has allowed us to treat these people while they are waiting, so we are able to start treatment, manage medications, and provide counseling services at a level that is rare to find elsewhere in the state."  
Gilbert says she tries hard to advocate for patients, which minimizes their anxiety even if they don't like the final outcome. "It's about understanding what is happening with the patient," she says. "Not just seeing them as a 'psych patient,' but as a person who has needs, has rights, and has things happening in their life that might be stressing them, then trying to meet those needs so we can take better care of them. Over the years I've been doing this, we have helped many patients gain trust in us, and that's not something that happens in every ED.
"I am extremely appreciative that Cheshire gave us the opportunity to develop this team because it's been a substantial asset to the hospital and, more importantly, to our patients and the community. I could not have accomplished what I have without the support of Dr. Olson and the rest of my team. I love my patients, and it's so great to have the opportunity to care for them in a way that is beneficial to them and others." 
Gilbert adds, "There are still things I want to do with the role, but they haven't given me a magic wand yet."
Sara's work with the Behavioral Health Team has allowed us to treat these people while they are waiting, so we are able to start treatment, manage medications, and provide counseling services at a level that is rare to find elsewhere in the state.

Jim Suozzi, DO, associate medical director and EMS director at Cheshire