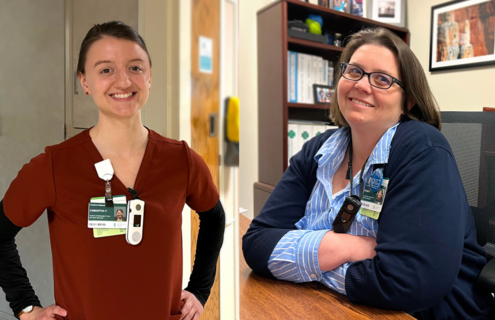 I want to do what I can to help Cheshire in many ways because I really do enjoy working here. People take care of each other. They look out for each other, and they genuinely care.
Ryan Hornblower, MS, MA, NRP
The nurses at Cheshire Medical Center are known for their dedication and the quality and compassionate care they provide. Many Cheshire nurses have known this would be their calling from an early age, but not all. Samantha Field and Ryan Hornblower are two current staff members who were inspired by the passion and commitment of their nursing colleagues to shift careers and become nurses themselves.
"The nursing supervisors here have all inspired me to hopefully be a really good nurse someday," says Field, who worked until recently as the central staffing officer at Cheshire. She is now a patient sitter mobility technician, and on her way to being a licensed nursing assistant (LNA). A recent graduate of Keene State College with a bachelor's degree in biology, Field had intended to go into genetic counseling. But her positive experience at Cheshire has made her change course.
"After working with all the amazing nurses here, I got inspired to go into nursing rather than genetic counseling," Field says. "It seems to me that nurses get to have more direct patient care. They are hardworking and passionate about their jobs, and that's really what I want for myself."
Field plans to start the nursing program at Keene State in 2024, and she should be able to complete the program in 2 years because of all of the prerequisites she took as part of her biology degree. In the meantime, an LNA licensure course at Cheshire will give her a lot of hands-on clinical experience, which is not required for the nursing degree but, she says, "will make me a better nurse in the end."
At Cheshire, Field is most inspired by the staff members in the Women and Children's Health Unit (WACHU) and hopes to ultimately work in labor and delivery nursing. 
"I really love the idea of women helping women, lifting each other up," she says. "Women have been historically oppressed, especially during the birthing process. I want to help patients discover the power within them to be strong and give birth the way they want to give birth, in the environment that they want." 
"Cheshire is a great place to work," says Field, "There's a very strong community between the staff members, and I've gotten nothing but support, accolades and empowerment. Everyone is super supportive."
Like Field, Hornblower's experience at Cheshire inspired her to pursue nursing, but as a mid-career change. Although she has been an EMS and emergency management coordinator at Cheshire for 4 years, she has worked in emergency medicine as a paramedic for 15 years. 
 I like that it's a community hospital and that working within the community is the focus. There's so much potential here.

Ryan Hornblower, MS, MA, NRP
"I have been thinking about nursing for a while, as a long-term plan," Hornblower, MS, MA, NRP, says. "I knew at some point I wouldn't want to work on an ambulance all the time, getting up in the middle of the night and doing calls at all hours. I do like that contact with patients, of course. I meet people on possibly the worst day of their life, and provide comfort, and I enjoy that. But someday, I will want to do something with more stable hours." 
Hornblower has been taking the prerequisites she needs at Manchester Community College but plans to complete her nursing degree at New England College (NEC) in Henniker, allowing her to continue working full-time at Cheshire. She received her bachelor's degree in political science at NEC, and worked there for years as a resident director and area coordinator before becoming an EMT. She also has two master's degrees from NEC, one in public policy and another in management with a concentration in strategic leadership, which add all the more depth to her background.
"Emergency medicine is always going to have a place in my heart, so I hope to still be in this role that I'm doing now, but maybe with some extra responsibilities," Hornblower says. For instance, she has enjoyed working on quality assurance and would be interested in doing more community outreach through a mobile integrated health unit. "I want to do what I can to help Cheshire in many ways because I really do enjoy working here."
Hornblower has worked at other hospitals, but like Field, has found a home among the nursing staff at Cheshire. 
"The atmosphere here is just great—like a family," she says. "People take care of each other. They look out for each other, and they genuinely care. I like that it's a community hospital and that working within the community is the focus. There's so much potential here."