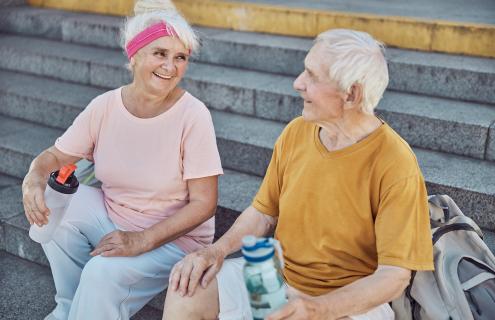 Osteoporosis, or low bone mass, is very common—with 54 million people in the United States that are currently living with this condition. Unfortunately, bone fractures resulting from osteoporosis are also very common, causing patients both pain and difficulty with everyday life. The areas most affected by osteoporosis are the hip, spine, and wrist.
Low bone mass should not deter you from exercising
Older adults tend to have changes in their muscle strength, posture, and balance which places them at a higher risk for falls. If you are 65 years and older with osteoporosis, the chance of you breaking a bone when you fall is greater.
The good news is that exercise can be very helpful with both managing osteoporosis and reducing your fall risk. You can and should exercise safely, with intention and awareness.
Specific types of exercise have been shown to help with bone health. These activities need to be performed consistently over a long period of time to have results.
Weight-bearing exercises: walking, jogging, Tai Chi, climbing stairs.
Weight training: with an emphasis on explosive/power movements.
Posture exercises: strengthening the back muscles that help keep the spine upright.
The Bone Health and Osteoporosis Foundation is a resource for exercise and safe movements.
Not all types of exercise are recommended for people with osteoporosis
For example, activities or exercises that incorporate twisting of your spine and bending over can be harmful. Other medical conditions or medications you take may also affect your movement and balance, so please talk to your doctor before starting a new exercise routine.
Physical therapy: exercise designed specifically for your needs
It is always important that if you are unsure of what type of exercise is safe, or need help to get started, to ask your doctor to send you to physical therapy. Physical therapists are movement experts and have specialized training in evaluating your individualized needs and developing a safe home exercise program.
If you have a fear of falling or have fallen and it is limiting your mobility or ability to exercise, definitely seek out a qualified physical therapist who will assess your balance and give you an individualized program.
Cheshire Medical Center's Outpatient Rehabilitation team includes physical therapists (PTs) who specialize in balance and fall risk reduction.
Finding an exercise routine that is both safe for you and beneficial for any conditions you have can improve your overall health and enjoyment of life. Spring is the perfect time to start moving for better health!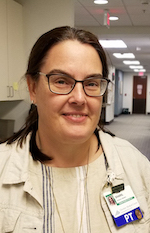 Sharil Cass, PT, DPT, holds a clinical doctorate in physical therapy and is a board-certified neurologic clinical specialist in physical therapy. She works with patients who have balance and neurologic deficits. She's completed advanced coursework to teach people with osteoporosis safe exercise and movement.
If your health insurance does not require a referral from your Primary Care Provider, you can call our Outpatient Rehabilitation team directly to schedule an assessment. Otherwise, contact your Primary Care team.
If you are concerned you may have or develop osteoporosis, please talk to your Primary Care Provider, who may refer you for a bone density screening.