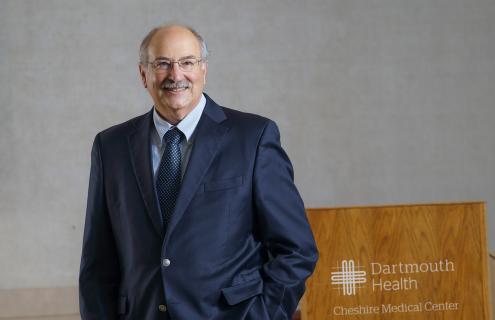 President and CEO Don Caruso, MD, MPH, has announced his plan to retire from Cheshire Medical Center in May 2023. Cheshire's staff and Board of Trustees congratulate him and offer our deep gratitude. Whatever his role, Caruso has always championed our mission to provide high-quality, compassionate care to the communities we serve.
For over three decades, Caruso has dedicated himself to the care and well-being of Cheshire's staff, patients, and the greater Monadnock Region's community. During his's tenure, Caruso has served in various roles at Cheshire, including chair of Family Medicine, associate medical director, then chief medical officer, and president and CEO for the past seven years.
"On behalf of Cheshire Medical Center, I want to thank Don Caruso for his years of service to this organization and our patients," said Susan Abert, chairperson of Cheshire's Board of Trustees. "It isn't often that you find a CEO who also maintains time in his schedule to see patients, but he has balanced both. His leadership, supported by a truly dedicated staff, has led to Cheshire's growth, and we've been so fortunate to have both leading us into a bright future."
Caruso has tirelessly overseen Cheshire's exceptional staff of providers grow from roughly 75 to more than 242, dramatically expanding the types of subspecialty practices offered and increasing the complexity of care provided in this area so patients can remain close to home for services.
Most recently, Caruso led the organization through the turbulence of the global pandemic and was a vocal advocate in the community and across the state for evidenced-based practices that reduce the virus' spread and prevent severe illness. Throughout those difficult times, he has remained committed to our Medical Center's mission to provide high-quality, compassionate care to the communities it serves.
Caruso has been steadfast in his commitment to the launch of Cheshire's Family Medicine Residency program, which is set to open pending accreditation approval in 2023, with the first residents arriving a year later.
"It's been a pleasure caring for this community. Getting to know patients and being part of their families while caring for them has made this the most rewarding part of my career. It has been a very fulfilling career, and I appreciate everyone who has joined me along the way."
Caruso is looking forward to his retirement this coming May. He plans to have more time playing golf, fishing with his sons, building his 19-foot Chris-Craft Barrelback boat, and traveling as much as possible.
Cheshire's Board of Trustees is forming a search committee to name a successor before Caruso's departure so he can assist with the transition.