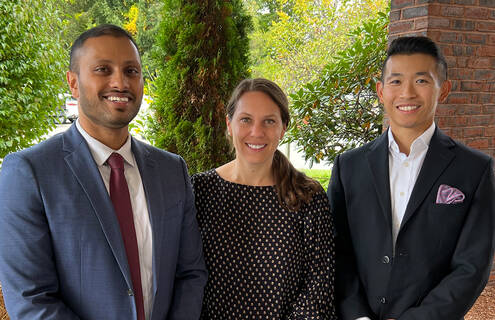 Getting patients back to enjoying the lives and activities they love has long been the goal of Cheshire Medical Center's Orthopaedics team.
The arrival of new surgeons has recently elevated the level of care, accessibility, and expertise patients can expect. Bringing specialized training and the latest techniques, Cheshire is pleased to welcome three fellowship-trained surgeons:
Effectively doubling the size of the department following two retirements and the introduction of a streamlined appointment system, these new specialists allow Cheshire to offer same and next-day appointments to anyone experiencing joint or bone issues.
"These new arrivals are all coming from fellowships that are highly regarded and highly sought after," says Greg Leather, MD, Orthopaedics department chair. "They were engaged in considerable research as part of the lead author teams. They've brought an infusion of current, up-to-date knowledge and discussions, bringing us all to a higher level."
Introducing Ortho Fast Track
The arrival of the new surgeons has already helped facilitate a new program called "Ortho Fast Track," which offers increased access to same-day or next-day appointments to get patients back to doing the things they enjoy.
"Our team is working to make world-class care accessible to anyone in the Keene area—fast" says Leather. "Six surgeons and an equally large number of specialized physician assistants (PAs) means excellent individualized care without a wait."
Patients can call the department directly at 603-354-5482 for an appointment or ask for a referral from your primary care provider if your medical insurance requires one. Call the number on the back of your insurance card for more information.
The meaning of patient-centered care
The new members of the orthopaedics team help support a more patient-centered treatment model, giving each patient more control over their plan of care and prioritizing less intrusive, conservative measures such as physical therapy.
"Gone are the days of patriarchal medicine, where doctors tell the patient they must do X," says Venugopal. "When it comes to hip and knee replacements, there is no one right answer—there is only the right answer for each unique patient. My goal is to give people as much information as possible—the roadmap—and point them in a good direction, but then let them make their own decision."
"To me, patient-centered means a shared decision-making model between the physician and the patient," agrees Mia Qin. "We provide patients with the information they need to make the appropriate decision for their own care. Excellent care begins with getting to know the patient and presenting all their options, then letting the patient choose what is truly best for them."
Vivek Venugopal, MD
Venugopal came to Cheshire in September directly from a fellowship in Adult Reconstructive Surgery—better known as hip and knee replacement surgery—at Boston's New England Baptist Hospital. He was drawn to orthopaedics through his work in India and the Dominican Republic during medical school. He saw how vital musculoskeletal health can be to supporting a family. Originally from the Boston area, he is thrilled to bring the most recent advancements in this sub-specialty to a community hospital like Cheshire.
"I was pretty fortunate to train where I did because Baptist is probably one of the top five fellowships in the country—definitely one of the highest volume ones," Venugopal says. "If there is a version of hip or knee surgery out there, I've seen it. There's more to medicine nowadays than there was just 20 years ago. There's a lot of subtlety to it, so having that extra training really allows me to tailor some of the newer advancements to meet the individual needs of patients."
Charles Qin, MD
Charles Qin also came to Cheshire in September from his fellowship in sports medicine at The Ohio State University. He has always enjoyed sports, including basketball, weightlifting, and golf. He knew he would specialize in orthopaedic sports surgery early in medical school. He and his wife Mia were looking for a rural hospital, like Cheshire, where they could share their specialized training with patients who might not have easy access otherwise.
"The range of surgeries we do in orthopaedics is expanding, and that additional specialization requires extra training," says Qin, who specializes in arthroscopic surgeries of the knee and shoulder. "We can offer patients treatments that weren't available before and cannot be covered in the five years of standard orthopaedic training. We're equipped with newer techniques that come with generational advancements in technology."
Mia Qin, MD
Mia Qin did her fellowship in hand and upper extremity surgeries, also at The Ohio State University. She loves the community that Cheshire serves and enjoys working in a small town, where she can grow to know her patients well and take care of them over a long period of time. She studied biomedical engineering as an undergraduate and enjoyed designing things like orthopaedic implants, but prefers to work in direct patient care.
"A lot of orthopaedics fellowships are very narrow in their scope of practice, but within the hand, there are a variety of problems and procedures," says Qin. "In one day, I could do 10 surgeries, and each one would be for a different problem. I really enjoy that variety while focusing on the anatomy of just one area of the body."
Caring for our community
All three of the new team members are eager to work in a community hospital like Cheshire, and are happy to be raising their young families in the Monadnock Region. Each has spent enough time in large hospitals to appreciate Cheshire's intimate setting, where they get to know both colleagues and patients on a more personal level.
"We love the community!" says Charles Qin. "I've already worked with a lot of kind, honest, hard-working people, just great people to meet and connect with. I might see someone in the office who works at the pizza shop that I just bought pizza from. That's like nothing that we ever experienced in larger city hospitals."
Most importantly, these new orthopaedic surgeons are helping Cheshire become the regional leader in this specialty. The team plans to introduce robotic surgery to refine joint replacements in the coming year, and is increasing their reach into the community, providing sports medicine services in local schools and recreational programs.
These providers go a long way toward supporting Cheshire's commitment to getting orthopaedic patients back to work, back to sports—back to their lives as quickly and safely as possible.
Learn more about Cheshire Medical Center's Orthopaedics department. For an orthopaedic appointment, call 603-354-5482.