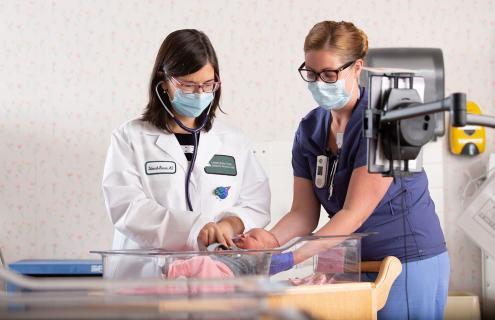 CHaD's TeleICN
Erika*, an obstetrics nurse for just over a year, received the call around 3:00 am: An ambulance was on its way to her rural Northern New England hospital with a woman in preterm labor. Until then it had been a typical night, with a bare-bones labor and delivery (L&D) staff of one other obstetrics nurse on the floor and a third nurse on-call. When the patient arrived on a stretcher, bearing down and pushing, the hospital's midwife, obstetrician, and pediatrician were all still en route. Erika examined the patient and saw the baby's head.
"At that point, I thought that there was going to be a baby born right into my hands," Erika says. "Which would have been my first delivery."
Then the patient's contractions stopped, and the baby's head was no longer visible. Erika had a window of opportunity, and she used it to call into Dartmouth-Hitchcock's (D-H) Tele-Intensive Care Nursery (TeleICN).
Filling a growing need
The Children's Hospital at Dartmouth-Hitchcock (CHaD) is New Hampshire's only comprehensive, full-service children's hospital. In its intensive care nursery (ICN), critically ill infants from throughout the region receive expert, high-quality care. But what happens when babies need urgent, expert care when they are far from the hospital in Lebanon?
Since 2018, D-H has offered TeleICN services to critical access and community hospitals throughout New England, including Cheshire Medical Center. Using a secure app that ensures patient privacy, board-certified D-H neonatologists can join local bedside teams from their phones, tablets, or computers to provide around-the-clock, real-time assessment and treatment recommendations through telemedicine.
TeleICN fills a growing need in the region. In New Hampshire, where birth rates are declining, Medicaid reimbursement rates are low, and obstetricians are scarce, ten hospitals have closed their L&D units since 2000. That means pregnant women are traveling farther from home for their care and sometimes giving birth in the closest rural emergency department. To address these challenges, TeleICN is available to both L&D units and emergency departments.
Michelle Tyler, MD, a neonatologist at CHaD says, "This service is so helpful to local providers who could use support and assistance with sick newborns. It takes a long time to travel places in such a rural region, and the TeleICN connection allows us to better manage patients until our team can get to them."
The power of teamwork
In Erika's case, early contact with D-H TeleICN allowed her team to prepare for the birth of an extremely preterm infant. "We knew the D-H neonatologist would lead the resuscitation, and the respiratory therapist, pediatrician, and I would be filling various roles," she says. They set up the operating room with micro-preemie equipment and positioned an iPad so that the neonatologist could visualize the infant during resuscitation. "We received great feedback in real-time. Having a provider more experienced with premature babies was reassuring for us and helped us be more comfortable with the resuscitation."
The baby Erika helped deliver was stabilized and transferred to CHaD's ICN by the Dartmouth-Hitchcock Advanced Response Team (DHART) neonatal transport crew. DHART can be looped into all TeleICN calls, so the team knows what to expect when it gets to a hospital, and local providers know precisely when the helicopter or ambulance will arrive.
Keeping care local
One of the benefits of TeleICN is that it prevents unnecessary transfers. While extremely preterm newborns and other critically ill infants need the life-saving care provided at CHaD, some babies have conditions that can be monitored and treated at Cheshire or the family's local hospital.
And that's one of the primary goals of all the telemedicine services offered by D-H: To bring the expertise of an academic medical center to families throughout the region. CHaD neonatologists are committed to helping any sick infant anywhere—especially when their involvement means a baby gets to stay in their community and a family avoids the stress and expense of travel to D-H.
Accessibility and flexibility
To that end, D-H has made implementation of TeleICN easy for regional hospitals. Tyler says, "With some telemedicine services, you have to outfit an entire room with expensive equipment. For us, the best solution is an iPad that can be placed right up to the baby."
"The most important piece for us is just figuring out how best we can help the providers on the ground with that baby," Tyler says. "Whether they want us to lead resuscitation, be a second set of eyes, talk with a family, or mobilize a transport team, it's our job to be flexible and to help in whatever capacity they need."
*Names and some details about this case have been changed to protect patient privacy.