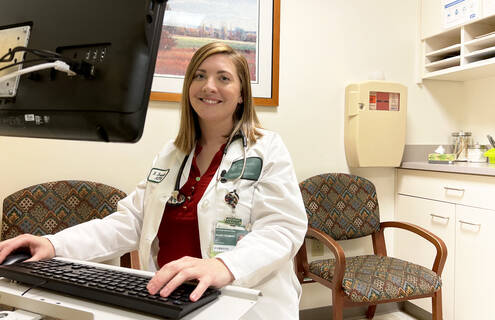 Find what recharges your soul and do more of it. And don't forget your 'why.'
Kelsey Trombley, MSN, APRN, of Cheshire Medical Center's Family Medicine department
As a child, Kelsey Trombley's stuffed animals and baby dolls always knew she would take good care of them. Should they tumble out of the toy box or take an unscheduled ride through the washing machine, Trombley would meet them with Band-aids, plenty of love, and an already fledgling desire to care for others.
"I was very lucky and have always known that I wanted to be a nurse," Trombley, MSN, APRN, says. "I couldn't imagine being in any other profession."
Raised in Keene and Swanzey as one of five children to former Cheshire film librarian Amie Trombley, Kelsey has spent most of her career within Cheshire Medical Center's four walls. A Monadnock Regional Middle/High School graduate, Trombley worked as an LNA at various area nursing homes. She then obtained her LPN and RN before eventually becoming an RN hospice case manager with Home Healthcare Hospice and Community Services. In 2017, Trombley returned to Cheshire as an RN in the Nurse Clinic and the Wound Care Clinic.
And then, she decided she was ready for her next challenge: getting her master's degree and becoming an Advanced Practice Registered Nurse (APRN).
"I started my nursing career at 17 as a nursing assistant and have gradually progressed over the years, so this seemed to be the next logical step for me," Trombley says. "My older brother holds a master's degree in mechanical engineering, so I couldn't let him be the only one in our family with a master's degree."
Trombley worked with Cheshire's Education team to identify which school best suited her and with Heather Palmer to navigate the process of submitting requests for clinical rotations and scheduling them.
"Heather was amazing," Trombley says. "I was lucky enough to be able to do all my rotations here at Cheshire and didn't have to travel far.
"I am so grateful for all the support I received from Cheshire. From the encouragement of my team in the Nurse Clinic and providers—thank you Dave Segal, Amaris Weller, and Katelyn Ahern—to the scholarships and tuition reimbursement, I felt very supported by the organization."
Trombley graduated with her Master of Sciencein Nursing, Family Nurse Practitioner, from Walden University in May 2022 and transitioned to the role of provider here in Cheshire's Family Medicine department in November.
What began as an instinct to care for Teddy and Barbie has turned into a career where Trombley cares for patients.
"I am very much enjoying my new role," she says emphatically. "There is so much to know, and some days it can be overwhelming, but I'm so grateful for the support of everyone within the organization for answering my million questions."
"The biggest difference is that I cannot say, 'Let's ask the provider!' "
Ahern is happy to have Trombley as a colleague and called her "a joy to be around."
"Kelsey is a shining light as an overall human being and provider," Ahern says. "Her hard work, determination, and heart of gold have gotten her where she is today! I feel blessed to have been on her education journey and now to be her colleague and friend!!
Outside of work, Trombley has also discovered a love of volunteering in recent years. "It fills my cup," she says.
She's helped out at area road races such as the Red Cap Run and Clarence DeMar Marathon and Half Marathon and is part of the Recycled Percussion "Super Team" that assists at various community events, including coat drives, Thanksgiving meal pick-ups, and holiday toy drives.
"I have also tried to make a positive impact on those around me," she says. "So being a part of coat drives and food drives have allowed me to help those in need but have also allowed me to make connections within the community which then allowed me to be more aware of local community resources."
When volunteers were sought to help administer the COVID-19 vaccine at the state-run site on Krif Road in January of 2021, Trombley jumped at the chance to help.
"My divorce was finalized just prior to the pandemic, so volunteering was also very therapeutic in my own healing, and helped give me a sense of purpose but also helped me remember my 'why' during those challenging times," she said.
Nowadays, when she's not seeing patients, Trombley can be found hiking, traveling, taking long walks (around Target), and enjoying time with family and friends. She's also encouraging any other fellow nurses to chase their dreams—and fill their cups.
"Find what recharges your soul and do more of it," she says. "And don't forget your 'why.'"