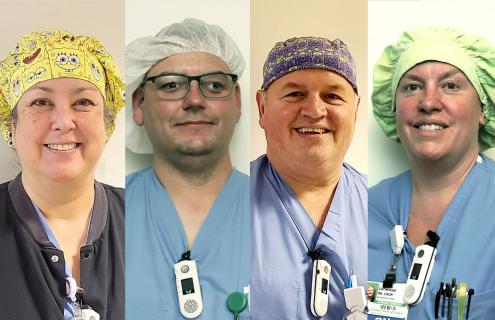 Perioperative nurses are Registered Nurses (RN) who assist with surgical care, including preparation and patient recovery. Ensuring that operations run safely and efficiently, they tend to sanitation concerns, assess patient needs, communicate with staff for patient care, and help surgeons during procedures.
Four nurses from Cheshire Medical Center's Surgical Services Operating Room (OR) team made the choice to lead and give back to their field by serving on the Board of Directors for the Association of periOperative Registered Nurses (AORN) of New Hampshire, Chapter #3001 — one as president. AORN of New Hampshire's mission is to "promote safety and optimal outcomes for patients undergoing operative and other invasive procedures by providing practice support and professional development opportunities to perioperative nurses in the New Hampshire area".
"I am so proud that four members of our OR staff — Eric Hood, BSN, RN; Michael McLeroy, RN; Tami Renken, BSN, RN; and Catherine M. Smith, RN — [who] serve as board members for the New Hampshire Chapter of AORN," says Cheshire's Director of Surgical Services, Jeanette Dempsey, RN.
"To have this type of representation at the board level in a professional organization for a community medical center is remarkable," says Dempsey. "It illustrates the commitment of these individuals to their profession and our community. Their team spirit and support for one another are exceptional, and I'm honored to work with them. They have all chosen this path to excel and are also committed to encouraging and mentoring others."
All four members of the Board of Directors have followed distinct paths to where they are in their nursing careers; however, they all show the same commitment to the nursing profession and are advocates for lifelong learning — both for themselves and by encouraging others. We sat down with each nurse to find out more about their career path and why they chose to serve on the board of Chapter #3001.
Eric Hood, BSN, RN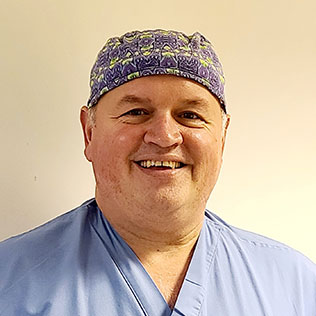 Hood got a late start in health care after a distinguished career in public service, serving as a full-time police officer for 15 years and in the US Army for six years. On his 40th birthday, he enrolled in a nursing program offered by the Veterans Administration. At the time, he was also working as a scrub technician at Cheshire.
Upon earning an associate's degree in nursing from Mt. Wachusett in 2012, he started working as an RN in the same department. He earned his BSN at University of Massachusetts in Amherst in 2014. Since he had already worked as an RN for two years, he was eligible to complete his OR certification. Cheshire offered him and some colleagues the opportunity to complete the Certified Perioperative Nurse (CNOR) credential, the only accredited certification for perioperative registered nurses. He became a member of AORN. After serving with AORN locally for some years, Hood was asked to join the board of AORN's New Hampshire Chapter.
"It was a wonderful opportunity to enhance my skills as OR nurse and also bring the best of my abilities to serve the people of my community," says Hood. "I believe in AORN's mission and feel that it is important to have the guidance of the leaders in my field. Being an AORN board member is a responsibility and honor that I take very seriously. It's my goal to encourage and lead new nurses as they start their careers in the operating room."
Hood's two-year term runs through July 2022.
Michael McLeroy, RN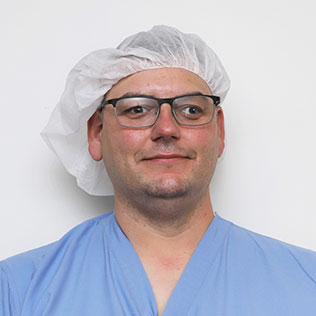 Michael McLeroy became a nurse in 2014 after working in Emergency Medical Services (EMS) for ten years. He spent his first three years at Cheshire working in the Intensive Care Unit (ICU) and the Emergency Department (ED) before he transitioned to the OR, where he's been since June 2017.
"I was attracted to surgical services after coming to the OR one evening to help administer blood to a critically ill patient. It gave me a glimpse of what happens in the OR, and I wanted to learn more," says McLeroy. "I became a member of the AORN in 2018 after taking Periop 101. I recently joined the Board of Directors as a way to continue to my learning and a way to give back to my local Chapter."
McLeroy's two-year term runs through July 2022.
Tami Renken, BSN, RN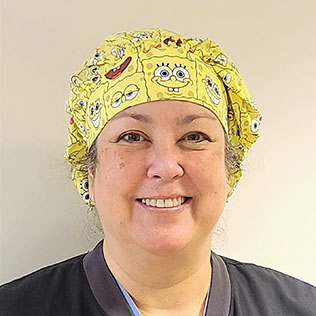 Tami Renken has been part of the OR department since February 2001. She was hired as a surgical services system specialist. She provided clerical support and assisted the OR director with administrative duties such as creating and generating month-end reports as requested by the director, physicians, or other departments. She also served as the backup OR scheduler. In 2008, she began her journey to become an RN due to working with such a compassionate and dedicated OR team.
"I was in my 40s and finally knew what I wanted to be when I grew up. I received my ADN in 2012, was a member of Phi Theta Kappa Honor Society, and began my nursing career in the OR. I received my CNOR credential in 2015. And in 2016, I received my BSN."
Renken has been an AORN member since 2015. She's currently serving a two-year term as secretary that ends in July. She is on the ballot for re-election for a second term.
Catherine M. Smith, RN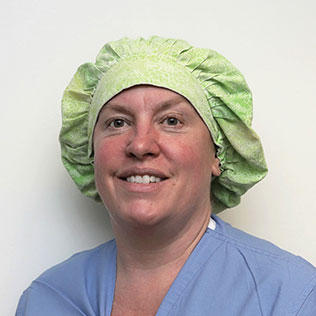 Catherine M. Smith has been a nurse for over 25 years. Her career began as a perioperative nurse working as a preoperative (pre-op), OR, and post-anesthesia care (PACU) nurse in a very small town in Florida where the pre and post areas were the same room. She received her CNOR in 2006.
Since then, Smith has done most types of hospital nursing but went back to the OR about 17 years ago. She actively joined AORN Chapter #3001 in 2017 as a delegate. After being nominated, she served as president-elect in 2019 and president in 2020. She will be president-elect in 2021 and president again for the 2022-2023 term.
"What a year to be president of Chapter #3001!" says Smith. "I'm grateful to have four active board members from our little OR. I have been lucky to work for Cheshire Medical Center for over 15 years, as well as at DHMC in Lebanon at the main OR for a few years per diem during the same time. I feel lucky that I circulate and scrub with near-even frequency. I also enjoy being the OR charge person. I want to retire from this OR, and I want to learn everything I can to excel and lead others."
Smith is currently serving a two-year term that ends in July 2021. She is on the ballot for re-election for a second term.
Visit the Cheshire Medical Center Surgical Services page for more information.