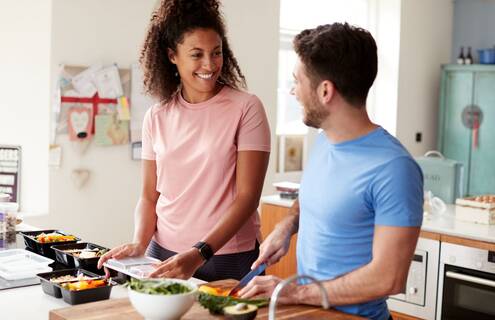 Consistent eating patterns promote weight loss and maintenance. What if there was a way to have more consistency and time, freedom, and creativity around cooking?
Ashley Bombicino, RD, LDN
When Cheshire Medical Center's registered dietitians (RD) first meet with people to provide help with weight management, one of the first questions they ask is, "Are you following a regular meal pattern?" All too often, the answer is "No."
A study from the American Journal of Clinical Nutrition found that individuals most successful with weight loss and maintenance had consistent eating patterns across weekdays and weekends—meaning they don't skip meals.
"The reasons for skipping meals can vary, but for many, it is often due to leading a busy life," says Ashley Bombicino, RD, LDN, of Cheshire's Center for Metabolic Medicine.  "People feel they simply do not have the time to purchase, prepare, and eat nourishing foods on a regular, consistent basis. This often leads to overeating at the next meal—and sometimes undesirable food choices."
"But I say, what if there was a way to have more time, freedom, and creativity around cooking?" says Bombicino. "A way to avoid the boredom often involved with making healthy choices, while still allowing you to have meals and or snacks that taste good—and are good for you?"  
For many, she says, the answer to this question is food prepping.
Food prepping is choosing to condense the majority of your shopping, cooking, and preparation into one organized block of time—at a time that best suits your busy schedule. Some involve their kids in the activity, too.
Benefits and examples of meal prepping
Meal prepping can mean simply shopping for, washing, and cutting up fruits or vegetables for meal sides and snacks. It can also include cooking and packaging meals for preselected days or an entire week.
Most importantly, all the work—from planning to packaging—is done at once at a time you schedule into your week. Many people do their meal prepping on Sundays, for example, so they can begin each week with prepackaged meals ready to go.
From quick snacks to meals such as lunch or dinner, the possibilities are endless:
Put portion-controlled servings of nuts or trail mix into small containers to leave in your car or desk as a grab-and-go snack.
Boil a half dozen eggs for sandwiches or mid-morning snacks.
Marinate chicken or fish in a container that you can grab and toss on the grill for an easy, healthy dinner.
Pre-cook chicken or tofu by sprinkling it with seasoning and roasting it on a baking sheet in the oven, to reheat for protein-rich lunches and snacks.
Cook a large batch of chili for lunches for the week.
This process can become more complex as you become more comfortable with prepping. Ultimately, it is about setting yourself up for success.
The 3 P's of meal prepping: Planning, preparing, and packaging
Planning
Predetermine the meals or snacks you struggle with and miss most often, and make a list of the groceries you need. (Start small with 1 or 2 meals or snacks to get started.)
Preparing
Go shopping and stick to your list to avoid impulse buys. Once home, begin to prepare the planned snack or meal by washing, cutting up, and storing items such as fruits or vegetables.
Packaging
Select bags, Tupperware, or used takeout containers for your meals and snacks. Remember to be mindful of portion sizes at this step.
"It can take some time and practice to get used to meal prepping," Bombicino says. "But it can be a great way to ensure you're getting balanced, nutritious meals that you look forward to eating by doing the work upfront. We have learned that consistent eating patterns promote weight loss and maintenance, so give prepping a try!"
Cheshire's registered dieticians understand how hard achieving nutrition goals can be and are specifically trained to help you meet them. If you are struggling with your eating habits, ask your primary care provider for a referral to meet with one of Cheshire's friendly and knowledgeable outpatient dietitians today.