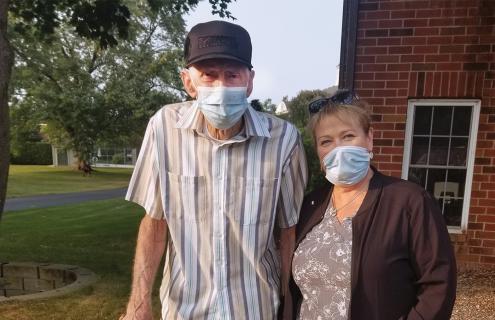 There were some days Sue Tempesta just flat-out didn't feel like walking. Despite needing just a few more strides to meet her daily goal of 10,000 steps as part of the Right This Way wellness challenge, she just couldn't muster the motivation.
Then she'd hear a familiar voice coming from down the hallway. "He would knock on my door and say, "Let's go,' " Tempesta says. That would be 85-year-old Hughston Chumley, Sue's upstairs neighbor and walking buddy.         
So she'd go. She'd always go.
Tempesta joined the program through her employer, MillisporeSigma in Jaffrey, as part of the Workplace Wellness program offered through the Center for Population Health at Cheshire Medical Center. The challenge gave Tempesta a goal of 10,000 steps a day, so she started walking laps around the apartment complex where she lives.
That's where Chumley—who had recently lost his wife of 50 years and was maybe a little short on camaraderie—came in. He noticed she was walking a lot and approached her one day. She explained the program, and he was hooked. "He'd say, "Did you get your 10,000 steps?' and I'd say, "No, not yet,' "Tempesta says. "And he'd go, "One more time around!' "
They'd walk and talk, and talk and walk. There were almost as many stories as there were steps. Tempesta has since moved to Hinsdale, and Chumley has visited her new place to walk a few times. Saying she knows how hard it is to meet people, Tempesta's hoping her friend finds a new partner to walk and talk—talk and walk.
"It's just the sweetest story because it kept me on track with the program," she
says. "I lost 10 pounds and I developed a wonderful friendship."
To learn more about your business or workplace participating in the Right This Way wellness challenge, contact Wellpowered Worksites, a program of The Center for Population Health.