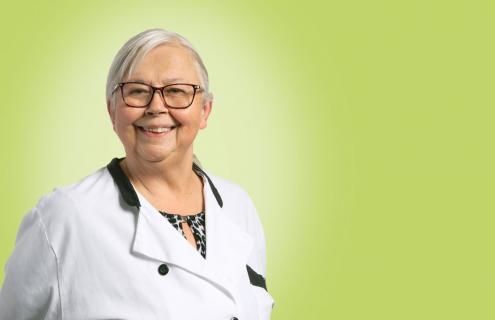 "When I come to work it feels like I am conducting an orchestra, making sure everything is in tune for a great song," says Edith, a team leader in Nutritional Services. "I communicate, lead, listen, train, encourage, and set an example, as we serve food that has been prepared safely, and is fresh and tasty, to patients, employees, and the community."
Edith grew up in Cheshire County, and has always been aware of the great reputation of Cheshire Medical Center. She left the area when her husband joined the U.S. Navy, and was stationed up and down the east coast and in Italy over the years, but came home again when he retired after 20 years.
"I had grown up in the area and had always remembered the good care my family was given here at Cheshire through the years. I thought it would be a good place for me to retire—do my 20 years." She started out working in the café, then moved up to catering, and is now a team leader. "Now it's going on 23 years!"
Edith worked many positions during the time her husband was in the navy, including waitressing, retail, and restaurant supervision. She also appreciates that her travel experience opened her eyes to different ways of the world, and enjoying life and people in all their variety. But she has found a special kind of satisfaction working at Cheshire.
"I am very thankful to work here," Edith says. "The people I have worked with are committed team players, and it is great to be part of a team that strives for success in all we do. When you leave for the day you feel a sense of pride for what we accomplished today, and look forward to the challenges tomorrow will bring."
Edith has always enjoyed cooking, and her favorite meal is one shared with family and friends. This includes her dogs, Sammie (an 11-pound Chihuahua) and Dozer (a 110-pound German Shepherd-Mastiff mix). "I love dogs. They show me what matters most in life: We are all different pieces of the quilt and together we make beautiful magic."
"What I like most about my job at Cheshire is the commitment my department has to come together as a team, and always pull through any obstacle that may present itself." All this, she adds, while providing delicious food—at a fair price—to the hospital community. "We take pride in what we do."
At Cheshire Medical Center, we are always looking for great people to join our diverse team, including many non-clinical positions. To learn more and view open positions, visit our careers page.