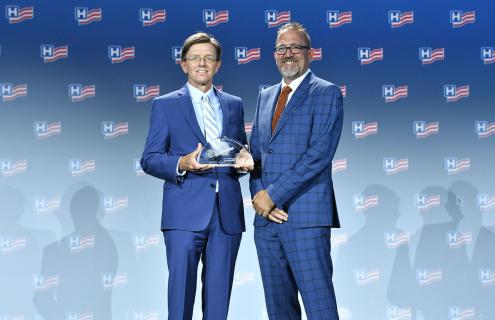 The Doorway at Cheshire Medical Center was honored with a 2022 American Hospital Association (AHA) Dick Davidson NOVA Award on July 18 during the AHA Leadership Summit in San Diego, California. The award recognizes The Doorway's hospital-led collaborative efforts that improve community health. A video celebrating this year's honorees was also shown during the ceremony. Vice President of Population Health Shawn LaFrance, MSUP, MPH, and Nelson Hayden, MA, MBA, MLADC, Director of Community Substance Use Services, accepted the 2022 NOVA Award on behalf of The Doorway at Cheshire Medical Center.
"It was an honor to be recognized with an AHA Dick Davidson NOVA award for the innovative work The Doorway at Cheshire Medical Center has accomplished for this region," said LaFrance. "The dedicated work of The Doorway team has made a significant impact. After two years of operations, Cheshire County has gone from having the second highest drug death rate to having New Hampshire's second lowest drug death rate. Working together has helped us to create a healthier community and increase well-being for our neighbors."
The Doorway at Cheshire Medical Center is a free service available to all New Hampshire residents. It is one of nine Doorway locations across New Hampshire that offers assistance with accessing every level of treatment for substance use disorders (SUD).
Whether you are seeking help for yourself or a loved one or simply looking for information and resources related to drugs or alcohol, The Doorway will connect you to the support and services and the level of care that's right for you, including:
Screening and evaluation
Treatment, including medication-assisted treatment (MAT)
Prevention, including naloxone
Supports and services to assist in long-term recovery
Peer recovery support services
Doorway clinicians connect with patients through individual and group therapy sessions, telehealth appointments, and walk-ins. The Doorway team staff members also meet patients in Cheshire's Emergency Department or an inpatient unit for admitted patients. This early connection helps to facilitate continued care after the patient is discharged.
"This year's Dick Davidson NOVA award honorees are leading with innovative and collaborative programs to address many of our nation's most pressing health challenges," said Rick Pollack, AHA's president and CEO. "Working together, these hospitals and health systems are creating healthier communities and increasing well-being for their neighbors."
The Doorway's partners include Monadnock Family Services, Monadnock United Way, Foundation for Healthy Communities, Cheshire County government, The State Opiate Response team, and local and regional substance use treatment providers.
"We couldn't be more excited about the partnerships we have with The Doorway," said Christopher Coates, the county administrator. "We have helped them with grants. They operate therapeutic counseling services for our drug court. People are being served at a time with they really need support and consistency."
To contact The Doorway, call 211 anytime or visit 24 Railroad Street in Keene, Monday through Friday, 8:00 am to 5:00 pm. For more information about The Doorway at Cheshire Medical Center, visit cheshiremed.org/doorway