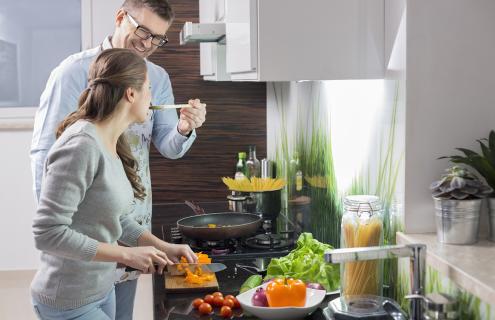 The first thing I talk about is eating all the food groups.
Amy Ansaldo, RD, Inpatient Dietitian
Most people recognize that good nutrition plays a crucial role in heart health, but what exactly is a heart-healthy diet? Unfortunately, many patients don't manage to find out until they have had a cardiac event—when they must make life-altering changes in their diet. But what if you chose to put time and attention into respecting your heart now?
Don't wait for a heart attack to love your heart
Amy Ansaldo, RD, a full-time dietitian at Cheshire Medical Center, discusses how you can explore and make dietary changes before your health becomes a crisis.
"The very first thing I talk about with cardiac rehab patients as they learn about a heart-healthy diet, is eating all the food groups," says Ansaldo, who provides nutritional care for inpatients and gives classes for those in cardiac and pulmonary rehab. 
"Talking about the role of all the foods that we find on the planet is really important because fad diets get so sensationalized in the media that people don't know what to believe anymore," she says.
Don't believe the myths
"Many weight-loss diets vilify carbohydrates, or 'carbs,' which are the basis of some of the healthiest diets in the world," says Analdo. "People also think that eating fat is clogging our arteries, but it's only certain processed fats, like margarine, that are truly bad. Eggs were good for us, then they were bad for us, then they were good again. In my classes, I'm basically trying to undo some of these outdated thoughts around food based on the latest research." 
5 Tips to finding and following your own heart-healthy diet
A Grain of Salt
The single biggest thing to pay attention to is sodium. "We can't live without it, but too much sodium causes many health issues," says Ansaldo. "Finding the balance is especially tricky for the elderly, as they may not cook for themselves anymore." 
While Americans eat an average of 4000 milligrams a day, a heart-healthy recommendation is 2300 milligrams or about a teaspoon. This is easy enough to estimate when you are cooking from scratch, but eating prepared foods will require careful label-reading.
Cook with heart 
Preparing your own meals puts you in control of your heart health. For the latest in research-based heart-healthy nutrition, who better to turn to than the American Heart Association? 
"The AHA website has tons of information that's always good," says Ansaldo. 
You can find shopping tips, recipes, infographics, and even whole cookbooks that support a healthy diet. Learn more at the American Heart Association.   
Eat your vegetables
It's a question of balance. "Our body uses all the food groups for different purposes: energy, rebuilding, cell and skin integrity," says Ansaldo. "My goal with patients is to move towards a wide variety of fresh foods rather than prepared foods." 
Online or smartphone diet applications can be very helpful, and many are free. Ansaldo likes one called Chronometer because it is not tied to any other products, it calculates more than just calories, and it includes a larger variety of fresh food sources. See a review at healthline.com.
Don't swallow big food myths
Food sources and information in the U.S. differ from those in many other countries, thanks to food industry lobbyists vying for the greatest profitability. 
"There is so much industry money involved in food sourcing," says Ansaldo. "It's become really important to pay attention to what we're eating and where your food comes from." 
Powerful food industries have helped to perpetuate misinformation about the impact on heart health. Learn more in an article on "Big Fat Myths" at the Center for Science in the Public Interest. 
Shop locally, learn digitally
Ansaldo stresses that buying and preparing your own fresh food, the fresher the better, is a giant step toward a heart-healthy diet. Farm stands, CSAs (community-supported agriculture), and food co-ops are great places to find fresh, local food. 
Hannaford, a regional supermarket chain, employs dietitians that offer free online classes on a heart-healthy diet three or four times a week through March—National Nutrition Month—as well as an online booklet on heart-healthy eating.
"Patients ask me, 'How do I make these kinds of changes when I haven't had a cardiac event?'" Ansaldo says she doesn't have a willpower pill, but making the choice to love and respect your own heart helps. 
"Once you know the food items that are the healthier choice for your life and body," she says, "choosing heart-healthy foods just becomes a good habit you cultivate." Your heart keeps you alive and vital enough to enjoy everything you love in life. Choosing to nourish it is a habit worthy of your time and intention.
Patients who want to consult with an outpatient dietitian regarding a heart-healthy diet or any other nutritional concerns can do so with a referral to Cheshire's new Center for Metabolic Health.