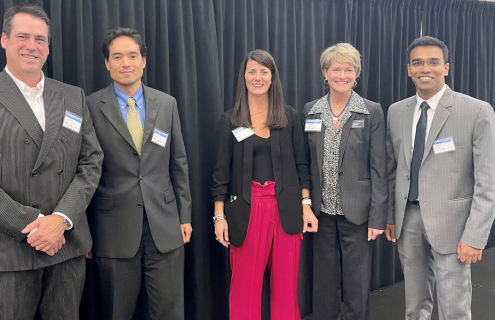 Northern New England Association of Healthcare Executives (NNEAHE) and the University of New Hampshire's Department of Health Management and Policy hosted Shaping the Future 3.0, an annual collaboration, in September 2022 at the University of New Hampshire in Durham.
Aalok Khole, MD, FACP, infectious diseases physician at Cheshire Medical Center, participated in a panel discussion called "The Healthcare Organization's Role in Formulating Public Policy." Panelists also included state epidemiologist for the New Hampshire Department of Health and Human Services
Benjamin Chan, MD; Michael Peterson, FACHE, President and CEO, Androscoggin Valley Hospital; and Maria Proulx, JD, president of Anthem Blue Cross and Blue Shield in New Hampshire. Lucy Hodder, JD, professor of law at UNH Franklin Pierce School of Law and the director of Health Law and Policy programs, moderated the discussion.
"It was an absolute honor and a privilege to represent Dartmouth Health at this forum comprising of a diverse audience," said Khole. "It gave me an opportunity to reflect upon what we all have been through as healthcare professionals in the last two and a half years and speak to the audience about our experiences, our learnings, and what we all collectively need to think about as we brace ourselves for whatever the future may have in store for us."
NNEAHE is a professional membership society for healthcare executives in Maine, New Hampshire, and Vermont; and is a chartered chapter of the American College of Healthcare Executives (ACHE). Its mission is to meet the professional, educational, and leadership needs of its members; to promote high ethical standards and conduct; to advance healthcare leadership and management excellence; and to promote the mission of the ACHE.
For more information about NNEAHE, visit nneahe.ache.org.