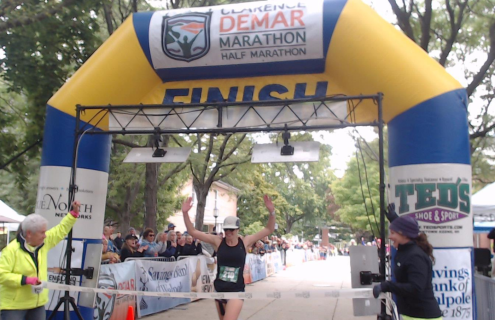 As Cara Weiner, MPA, PA-C, crossed the DeMar Marathon finish line in Keene, New Hampshire, on September 25, 2022, she broke the tape, winning first place for women while also achieving a personal record of 3 hours and 3 minutes. That's 26.2 miles with a pace of 6 minutes and 58 seconds per mile.
Inspired by her sister, Weiner began running as a freshman in high school. Up until then, she was a three-season athlete, playing fall soccer, winter basketball, and spring softball. From that point on, she focused on cross country and track. Four years later, she went to college in Steamboat Springs, CO, where the only sports team was the downhill ski team, and the elevation is 6,000+ feet above sea level. During that time, she began to run longer and farther in the mountains and fell in love with distance running.
She ran her first marathon in Denver in 2013—six months after the Boston Marathon bombings—with a time of 4:09, never imagining she could run faster than that. But she continued to run and train for the marathon distance with a goal of qualifying for the Boston Marathon.
"I felt motivated to try to qualify for the Boston Marathon along with the thousands of others who wanted to show that terror would not stop our sport," said Weiner.
In 2016, after four tries, she completed a marathon in Salt Lake City with a time of 3 hours and 28 minutes, qualifying her for Boston. Cara ran her first Boston Marathon in 2017 and has run it twice since—in 2021 and 2022.
"DeMar was my 11th full marathon. This marathon win was a result of coaching guidance by Jeff Cunningham of Austin, TX, unrelenting support from my partner, Spencer, my family, and many others who join me and support me in my athletic pursuits."
Running community
"Keene is a great place to live and train because of its robust running community," says Weiner. "There are so many runners and great places to run. DeMar is a special race because it's home turf. The best part about DeMar is the time of year. The portion of Surry Dam Road up to the dam is my favorite part of the course. The foliage is beginning to tease the early New England autumn beauty, the farms are picturesque, and the crowd begins to form, bringing with it race day energy. The energy in Keene surrounding the race is so supportive and welcoming. I am thankful for the local organizations involved in the details that make this race a pleasantly smooth event, including Ted's, The Rotary Club, and Cheshire Medical Center, to name a few."
Finding her calling
She studied to become a physician assistant (PA) in Boston. During this time, she was also considering which specialty to pursue.
"I loved the operating room from my general surgery rotation, but I wasn't sure if I wanted to do general surgery," said Cara. "I began to wonder about other surgical subspecialties. My final rotation was in the Orthopaedic department at Cheshire Medical Center. With my athletic background, I found many of the patients relatable. I enjoy talking to them about how the body works in motion and how we can keep our bodies moving throughout life.
Once she began her rotation in Orthopaedics, she quickly realized that orthopaedic surgery was a perfect fit.
"The amazing team of orthopaedic PAs and surgeons also made this an easy decision," says Weiner. "I am extremely thankful for my orthopedic surgery team and their support in the workplace and in my athletic pursuits."
Orthopaedics is the broad-based medical and surgical specialty dedicated to the prevention, diagnosis and treatment of diseases and injuries of the musculoskeletal system. The Orthopaedic Department at Cheshire cares for patients of all ages and offers comprehensive care and treatment options for existing conditions, sports injuries and accidents. Options, information and support are shared with each patient to create a healthcare plan that supports the individual's goals and lifestyle. Our multi-specialty team collaborates closely with physical therapists and other rehabilitation professionals to get patients back to the activities they enjoy the most.
To learn more about the Orthopaedics department at Cheshire, visit cheshiremed.com/orthopaedics.