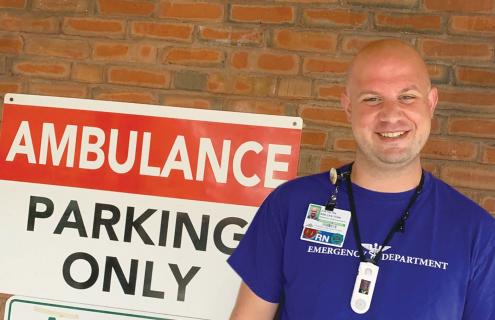 Justin Lyons knew from a young age that he wanted to work in emergency services. Now at 32 years old, the list of credentials that follow his name — RN, BSN, CEN, TCRN, and AEMT — makes it clear he's followed his dreams.
While attending Monadnock Regional High School in nearby Swanzey, Justin completed the EMT-I — now referred to as AEMT — curriculum, test, and state registry exam with the aspiration to become a paramedic. However, after completing his EMT observation in the Emergency Department (ED) at Cheshire Medical Center, his passion for emergency nursing was born, and his plans changed.
"After my EMT observation experience, I knew my dream of being an ER nurse would be here, at Cheshire," he says. Aside for a year spent in Nashua, Justin has lived and worked in this area all his life.
I am in this building and this community for a reason. I want to work and serve in the community where I live.

Justin Lyons, RN, BSN, CEN, TCRN, AEMT
His dedication to this community brought Justin and his husband, Michael, back to Walpole. Both volunteer for the Walpole Firefighters Auxiliary, a branch of the town's fire department that supports the community of Walpole by putting on CPR classes as well as community events such as Old Home Days and the Children's Firefighter Challenge.
While working in the ED during the pandemic, Justin had an opportunity to support some emergency management initiatives, including participating in training on the use of Powered Air-Purifying Respirators (PAPRs), the PPE needed to care for patients with COVID. When the Walpole Fire Department starting using PAPRs, Justin used this knowledge to educate and train his colleagues in the department.
"Cheshire's Emergency Department benefits from Justin's role in the community. He serves as a resource for pre-hospital processes and procedures," says Jessica Lussier, MSN, director of critical care and emergency services. "Together we can provide coordinated care for our patients."
"Cheshire is the right-sized hospital," Justin says. "We are big enough to support our local communities but have the support of the tertiary hospital and trauma center at Dartmouth-Hitchcock. There is always something going on to make the patient experience better, to make the work better."
Justin's childhood dream of working in emergency services has been realized, but no one would be surprised if the list of credentials after his name gets longer. We're so thankful for his commitment to Cheshire and the community.