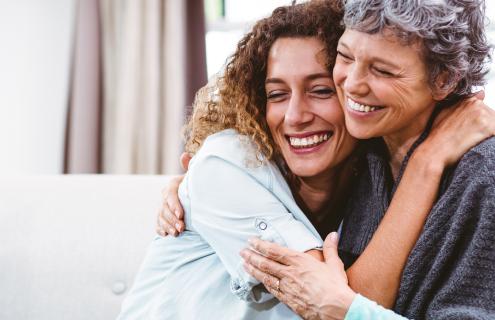 Breast cancer is the most common type of cancer among women, except for skin cancers, in the United States and New Hampshire. Although the human papillomavirus (HPV) vaccine has reduced the rate of the cancers it can cause—including cervical cancer—HPV is still a widespread sexually transmitted infection affecting women and men in New Hampshire. When you get recommended screenings on a regular basis, cancer can be detected early and is much easier to treat.
Breast Cancer Screening
Breast cancer can occur in women and men. Everyone should perform breast-self exams to be aware of changes, and regular clinical breast exams and mammograms effectively find problems early for successful treatment.
Some families are affected by breast cancer more than others, so ask if anyone you are related to has ever experienced breast cancer. It can help to schedule regular screenings together with family members or friends.
Depending on several factors—including your family's health history, your health risks (such as smoking or lack of exercise), and others—your provider will recommend when you should start getting breast screenings and how often you should get them.
Some doctors recommend screening every year or every other year, beginning at the age of 40. Most recommend an annual mammogram and an annual clinical breast exam through your primary care physician or women's health provider.

H.E. Guy Burman, MD, Medical Director of the Breast Care Center at Cheshire Medical Center
Get a mammogram or contact your provider to get a clinical breast exam beyond your regular screenings if you find a lump, nipple retraction, redness of the breast, or any change to the breast that is new for you.
Cheshire's nationally accredited Breast Care Center offers 3D mammography (tomosynthesis) for routine screenings. 3D mammography is better than a traditional mammogram because it provides greater accuracy, improved comfort, and lower radiation exposure.
Make an appointment
You do not need a doctor's order to schedule a mammogram; just call 603-354-6580.
Cervical Cancer Screening
Cervical cancer affects the cervix—a ring of cells at the bottom of the uterus. Women and anyone with a cervix usually begin regular screenings for cervical cancer as soon as they become sexually active or at age 21.
Various strains of the human papillomavirus (HPV), a sexually transmitted infection, play a role in causing most cervical cancer. In a small percentage of people who get HPV, the virus survives for years instead of healing and causes some cervical cells to become cancer cells. HPV can also cause cancer of the vulva, vagina, penis, anus, and oropharynx (back of the throat, including the base of the tongue and tonsils).
You can reduce your risk of developing cervical and other gynecological cancers by having annual pelvic exams that include Pap tests. Reduce your risk of developing any of the cancers caused by HPV by receiving a vaccine that protects against infection.
Make an appointment
Schedule a pelvic exam and Pap test or HPV vaccination with your primary care provider at 603-354-6760 or gynecologist at 603-354-6640.
No insurance? The New Hampshire Breast and Cervical Cancer Program (NH BCCP) helps eligible individuals across New Hampshire access free breast and cervical cancer screening and diagnostic services at Cheshire Medical Center and other locations. The BCCP offers access to the following:
Clinical breast exam
Mammography
Pap test
Pelvic exam
Diagnostic services, as applicable
If a breast or cervical pre-cancer or cancer is diagnosed through a BCCP screening and the patient has no other health insurance, our staff will enroll those eligible into Medicaid to pay for the cost of treatment or assist in accessing treatment through other resources. Call 603-354-5454 ext. 2114 to see if you qualify and make a BCCP screening appointment at Cheshire.