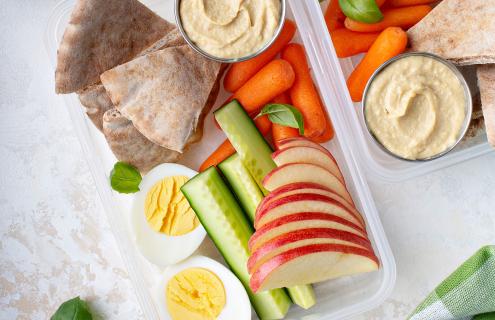 "I work with many patients who feel confused about what eating schedule is right for them," says Outpatient Registered Dietitian Ruth Goldstein MS, RD. "While there are many different theories about the best meal patterning, I find consistently that most patients feel better when they feed themselves 3 regular meals through the day and 1-2 balanced snacks as well."
What is a balanced snack?
A balanced snack is something that contains both protein and fiber. This winning combination helps to balance your blood sugar, keeping you energized and satisfied. Here are some balanced snack ideas to get you started:
Easy grab-and-go protein
Cheese sticks.
Greek yogurt.
Peanut butter.
Almond butter.
Nuts.
Sunflower or pumpkin seeds.
Hummus.
Sliced chicken or turkey.
Hard-boiled eggs.
Fiber-rich foods to pair with your protein
Whole grain crackers.
Fruit.
Cut vegetables.
Make-at-home balanced snack ideas
Greek yogurt with granola and berries.
Peanut butter on an apple.
Cheese, crackers and baby carrots.
Hummus and vegetables or pita chips.
A hard-boiled egg and some grapes.
Nuts and dark chocolate chips.
Pre-packaged snacks available from local stores
Sargento Balanced Breaks with cheese, nuts, and dried fruit.
P3 Portable Protein Packs with cheese, nuts, and deli meat.
Niman Ranch all-natural snack packs with sliced meat, cheese, and nuts or crackers.
Sabra Snackers Hummus and Pretzels, pita chips or veggie chips.
Sargento Sweet Balanced Breaks with cheese, dried fruit and dark chocolate chunks.
Justin's Almond Butter and Pretzel snack packs.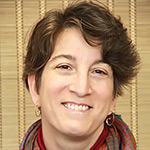 Ruth Goldstein MS, RD is an outpatient registered dietitian with Cheshire Medical Center. She is part of a team of three outpatient registered dietitians who hold nutrition counseling appointments in person and via zoom at 149 Emerald Street Unit J in downtown Keene. To book an appointment, call our Nutrition Services department at 603-354-5476.