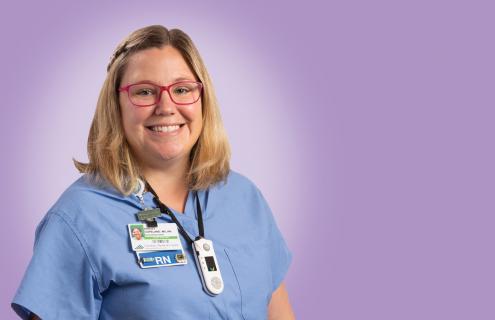 A native of Keene, Ashley Copeland was in the pre-med program at Wheaton College, in Massachusetts, when she volunteered at Cheshire Medical Center over the summer before her senior year. She knew she would work in healthcare, but it was this volunteer experience in the post-anesthesia recovery room that convinced her she wanted to be a registered nurse (RN).
"The compassion the nurses showed and the care they provided to the patients here at Cheshire impressed me—and motivated me," says Ashley, who went on to the master's program in nursing at University of New Hampshire. She felt fortunate to be placed in the Norris Cotton Cancer Center at Cheshire for a clinical rotation while in nursing school. "This clinical opportunity was so wonderful that I decided I wanted to work at Cheshire when I graduated."
Ashley started as a new graduate nurse in the operating room—and has worked at Cheshire for 13 years now in a variety of different roles: operating room nurse, administrative clinical supervisor, professional development nurse educator, and currently clinical leader for the pre-operative department.
"I share an office with the clinical leader that allowed me to volunteer in the post-anesthesia care unit (PACU) as a college student," she says. "I find nursing at Cheshire to be an incredibly rewarding profession with many opportunities and paths."
The number one reason Ashley loves her job is the people she works with. "So many people are friendly, helpful, genuinely willing to do the right thing for our patients and community. People greet each other in hallways by name, help each other clean snow off cars in a blizzard, and generally hold a certain kind of integrity that is not often seen in other places."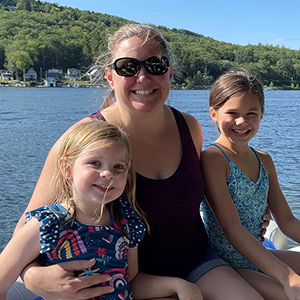 When she is not nursing, Ashley likes spending time outside with her family and friends. Her husband and two daughters enjoy being out on their boat in the summers, on the local lakes and river. She also works as an adjunct professor in the Keene State nursing program.
"I love caring for the people of my community," she says. "Having surgery can be very anxiety-provoking, and it gives me great joy to be able to comfort community members during the pre-operative phase of care. It makes my day when I can ease the fears of a parent as their child is headed into surgery or reduce the discomfort of a waiting patient. Sometimes the patient is even a familiar face—a friend or family member."
At Cheshire Medical Center, we are always looking for great people to join our diverse team, from environmental services techs and security officers to nurse assistants and surgeons—it takes a village to staff a hospital. To learn more and view open positions, visit our careers page.