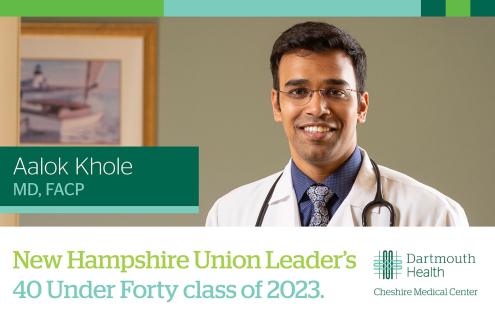 Cheshire Medical Center is thrilled to announce that Infectious Diseases Physician Aalok V. Khole, MD, FACP, has received New Hampshire Union Leader's "40 Under Forty" award for 2023. The annual recognition showcases dedicated young professionals who have made a difference in their communities and professions.

A special section ran in the Feb. 19 edition of the Union Leader where Dr. Khole and the honorees each share, in their own words, what motivates them to give back to their communities, words of wisdom they wish they could share with their 22-year-old selves, and more. Recipients will also be recognized at a reception at the Capitol Center for the Arts in Concord on March 8.

The 2023 Class of 40 Under Forty includes 18 women and 22 men—honorees 841 to 880 in the paper's 22-year history of celebrating the state's inspiring and giving young generation. Nominations were gathered last fall. Nominees had to be younger than 40 and have lived in New Hampshire for the last three years.

Other recipients within the Dartmouth Health system include Tom Manion, MPA, president and CEO of New London Hospital; Corneliu N. Stanciu, MD, director of addiction services at New Hampshire Hospital and assistant professor of psychiatry at Geisel School of Medicine at Dartmouth; and Courtney Tanner, JD, director of government relations at Dartmouth Health. 
"I'm very proud of our four Dartmouth Health employees who have been elected to the 2023 class of the Union Leader's 40 Under Forty," said Joanne M. Conroy, MD, CEO and president of Dartmouth Health. "They join the many Dartmouth Health 40 Under Forty alumni who go before them, representing the most influential young professionals in New Hampshire. In a rapidly aging state like ours, it is inspiring to see the next generation not only choosing to make New Hampshire their home, but doing their part to make our state a better, more equitable place to live, work and enjoy. As the Granite State's largest private employer, Dartmouth Health is made stronger by these young leaders."

To view a complete list of awardees, visit "40 Under Forty" on the New Hampshire Union Leader website.