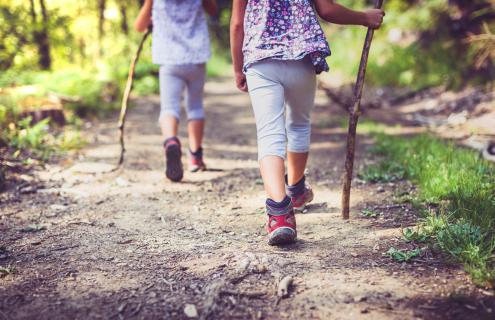 While Pitcher, Gap, and Monadnock are popular mountains to hike, our region also offers many delightful walks that are more accessible to all ages and abilities. So grab a friend, neighbor, or coworker and go for a quick stroll—or pack up a picnic and make a day of it!
Keene: Cheshire Rail Trail over the North Bridge
Footing: Easy
Breathing: Easy
Start at: Park at the CVS / Panera lot; trail runs behind the buildings.
Walk West to the North Bridge over Rt 9/10/12. On the other side, you will find fields full of evening fireflies in the summer. Keene Country Club is 1.5 miles and Stonewall farm 3 miles down the trail.
Keene: Ashuelot Rail Trail over the South Bridge
Footing: Easy
Breathing: Easy
Start at: The Emerald Street side of the Center at Keene parking lot. The trail starts at the wooden railings near Ralston Street.
From The Center at Keene, find the trail running past Keene State College and over the new South Bridge. The Keene State Athletic Fields are 1 mile and Ash Swamp Brook 1.5 miles down the trail. It is a good idea to bring bug spray once the mosquitoes arrive.
Keene: Robin Hood Park
Footing: Moderate
Breathing: Moderate, some uphill
Start at: Robin Hood Park, 366 Reservoir Street, Keene.
Take the trail through Robin Hood Park, past the reservoir and through the woods. A maze of trails crisscrosses this forested park which is set back into a west-facing hillside with a pond, ledges and massive boulders to explore. A small stream cascades into the pond and there is a picnic area close to the parking lot.
Keene: Wheelock Park - Appel Way Trail
Footing: Easy
Breathing: Easy/moderate
Start at: Park at Wheelock Park off Park Ave in Keene; trailhead is on the lot across from the pool.
The Appel Way Trail is a 1 1/4-mile paved bike path connecting Wheelock Park to Court Street. It winds over Route 12, under Route 9, then across the Ashuelot River. You can also extend this walk by turning right after crossing the river and taking the Jonathon Daniels Trail 1 mile along the river to Ashuelot Park.
Jaffrey: Monadnock Branch Rail Trail
Footing: Easy
Breathing: Easy
Start at: 8 Blake Street. The parking lot behind Jaffrey Pizza Barn; trail is across the road, then turn right/South.
This easy-going walk along the beautiful Contoocket River spans just over 2 miles. If you visit in early June, the abundant lady slippers that grow along the trail will be in bloom! There is a public boat launch at Old County Road and just beyond you will find the Contoocook Marsh Conservation Area which offers a small trail loop and benches to enjoy the scenery and wildlife at the wetland's edge.
Walpole/Alstead: Distant Hill Gardens and Nature Trail
Footing: Easy
Breathing: Easy
Approximate Length: 2 miles
Start at: Distant Hill Nature Trail, 66 March Hill Road, Alstead.
Explore the new Distant Hill Nature Trail, a mile-long wheelchair-accessible trail just East of the gardens. The trail winds through a hemlock/beech forest with several unique wetlands, including five vernal pools and a forest seep. There is also a short boardwalk over an uncommon quaking cranberry bog. https://www.distanthillgardens.org/distant-hill-nature-trail/.
Chesterfield: Chesterfield Gorge
Footing: Hard
Breathing: Moderate/Hard
Start at: Chesterfield Gorge, 1823 Route 9, Chesterfield
The 2 1/4-mile loop trail leads to the falls and cascades as Wilde Brook flows through Chesterfield Gorge. Although this walk is not very long, there are several steep sections with uneven footing, so take your time and bring hiking poles if you use them.
West Chesterfield: Hike Along the Connecticut River
Walking: Moderate
Breathing: Moderate
Start at: Turn left on Gulf Road just before the Route 9 bridge into Brattleboro from Keene. Then follow the dirt Mountain Road to the end for parking.
Take a scenic hike along the river enjoying the gorgeous views of Vermont and the entire tri-state region. It is 1.2 miles to the base of Wantastiquet Mountain Natural Area, where you could continue hike right up to the top.
The Cheshire Walkers have been meeting for 20 years every Wednesday to take walks like these together through this program of the Center for Population Health at Cheshire Medical Center. They have explored 240 different trails so far!
To join or learn more, call 603-354-5454 ext. 2791, visit Cheshire Walkers Program ** or pick up a program of events from Cheshire Medical Center.