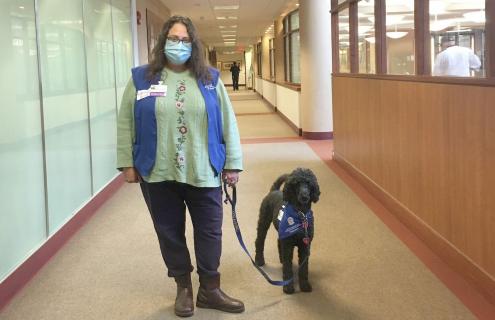 If you've ever had an appointment at Cheshire Medical Center and noticed a four-legged furry animal walking about wearing a blue bandana, then you've seen one of our volunteers in action. Cheshire's pet therapy program started in 2003. Pre-COVID, there were three therapy dogs — Frankie, Buddy, and Phyllis — who volunteer with their human handlers at the Medical Center.
We're thrilled to report that this past September, Frankie—a 6-year-old standard poodle—achieved her American Kennel Club (AKC) Therapy Dog Excellent (THDX) title by completing 200 volunteer hours with her human counterpart, Janet Goldstein. Though Goldstein takes the backseat during their visits, she's in the driver's seat on the way into the parking lot, and reports that when they take the last turn, Frankie gets so excited that she starts "talking" in the back seat—something she only does when she visits Cheshire.
"She just loves it. She's perceptive and knows who she can say hello to and who she can't," says Goldstein. "When Frankie does her magic and interacts with people, I become invisible—essentially, just holding the leash. Nothing fills my heart more."
Thirty years ago, Janet Goldstein worked in a group home and brought her dog to work. This was her first experience having dogs in a therapeutic setting—and decades before there were dog therapy certification programs. She would also visit area nursing homes and see people light up while they spent time with her dog. She recognized immediately how positive and powerful the interactions between the dogs and humans were.
These experiences led to become a dog trainer and start her business Wet Nose Dog Training. Janet offers obedience dog training, and therapy dog training and certification. Janet is a certified tester/observer for the Alliance of Therapy Dogs as well as an AKC Evaluator.
"Research shows that positive interactions with animals can benefit the health and wellbeing of people in crisis by increasing endorphins, oxytocin, prolactin, and dopamine," says Goldstein. "These are the hormones associated with blood pressure regulation, pain relief, stress relief, and joy. Visits from Therapy Dogs help to normalize stays away from home, improve motivation to participate in treatment protocols and lessen worry, anxiety, unhappiness, and pain."
According to the Alliance of Therapy Dogs' website, "Therapy dogs differ from service dogs in what they're used for and their access privileges. They're typically dogs that visit schools, hospitals, nursing homes, and several other locations with their owners. This is a valuable service for people that are comforted by the presence of a dog. Unlike service dogs, therapy dogs are not protected by federal laws. The right to visit must be granted by the individual facility on a case-by-case basis. Therapy dogs can provide psychological benefits for people suffering from depression, anxiety, autism or stress."
During the start of COVID, she and Frankie stopped coming in, but this spring, now that Goldstein is fully vaccinated, they've started to visit again with employees. (At this point, they are not yet visiting with patients.) Frankie has some special employee friends on a few different floors. She knows exactly where to go when they exit the elevator. Then the hallway doors open up, and people come to say hello to Frankie.
"Employees have had a really rough year, and it makes their day to see a dog in the office," says Goldstein.
Janet is a bit of a Renaissance woman. In addition to her deep commitment to volunteering and training therapy dogs, she's been teaching psychology and music classes at Mount Snow Academy since 1999. She's a lifelong artist and musician. She's looking forward to playing acoustic bass in her band, Bourbon Shuffle, and strumming her old-time banjo at area contra dances and jams once it's safe again.
"Frankie and I volunteer at Cheshire Medical Center, at Mount Snow Academy, and other area hospitals," says Goldstein. "Giving back to my community is very important to me."
Even though Frankie loves volunteering at Cheshire, she also expends a lot of emotional and physical energy during these interactions. After visiting Cheshire, Goldstein and Frankie always meet up with their friends and go for a long walk on the trails in town. In addition to spreading joy through volunteering as a therapy dog and chasing balls, Frankie loves to hike, so a walk with friends is the perfect way for this special girl to unwind.