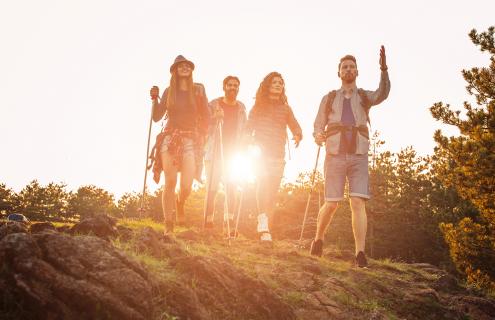 Fall is a fantastic time of year to take advantage of the ample hiking opportunities in our region! For some, this may be the first time of year you get out for a significant hike, so putting some time in to train first will help you stay injury-free.
Always talk to your doctor before starting a strength training program, especially if you have been inactive or have any health conditions.
Resistance Training—building strong legs increases your ability on steeper terrain. For those with weaker knees, coming down can be more challenging than going up. A strong core will help you support a pack and increases your general stability.
Balance—working on your balance helps you handle uneven terrain, preventing injury from miss-steps and falls.
Endurance—increasing your muscular and cardiovascular endurance helps you stay out on the trail longer.
Sample exercises
These exercises, demonstrated by the Mayo Clinic, may help you to train for hikes:
Prepare and listen to your body
Make sure you fuel your body with an appropriate meal before hiking and bring snacks and water to sustain you. Bring layers to make sure you don't get cold on your way down.
Start out slowly to warm up, and stop to stretch as needed. Listening to your body helps you enjoy yourself on your hike, and helps reduce the chance of soreness or injury that might prevent you from hitting the trails again soon.
Hiking poles can be an excellent tool to help you navigate and balance on uneven and tough terrains. Most include shock absorption and help ease strain on your knees and back. They also provide the added benefit of a full-body workout that includes your arms, back, and shoulders.
Excellent Monadnock Region hikes
Alltrails.com can be a great resource to find local hikes. We recommend reading the reviews from other hikers so you know what to expect. Here are some we love: