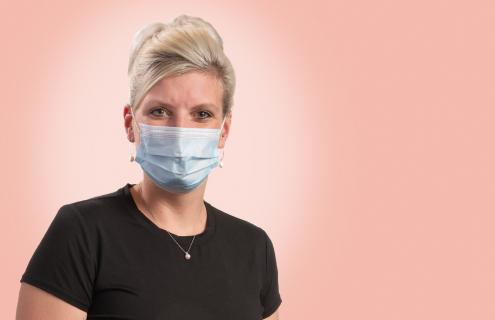 Tiffany French, RN, grew up in the Keene area. After several years of training and career development elsewhere, she returned to Cheshire Medical Center to help take care of the community she knows so well.
After graduating from nursing school at Maine's Saint Joseph's College in 2009, Tiffany spent a couple more years nursing in Maine before starting at Dartmouth-Hitchcock Medical Center in Lebanon, NH. She transferred to Cheshire to take on a care coordinator role and is now the director of care management and care coordination.
"My training for this position came from all of my nursing experience," says Tiffany. "When I became a care coordinator, I found that I loved helping patients navigate challenging medical care. Having gone through a very challenging experience with medical care myself, I knew that I wanted to do more to help guide patients through what can be such a complex journey. Moving into leadership has allowed me to improve processes that impact our patients."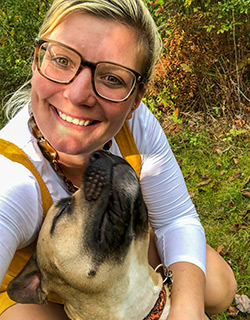 Tiffany's first experience at Cheshire was when she was still in nursing school, working as a nurse assistant (LNA) on weekends, holidays, and vacations. She was also fortunate to participate in the nurse extern program during the summer before her senior year. She is still in contact with many of the nurses who helped provide such a rewarding experience.
"I learned so much from all of them, but they also made me feel like I was really part of the team. The experience left me with such a positive impression of the medical center, helping to make it an easy choice to come back years later." Tiffany is so committed to her community that she works with the director of Nutrition Services at Cheshire to provide surplus food at the end of each day, with support from nursing and other staff, to a local shelter.
When she is not working, Tiffany spends time with her local family and friends, her partner, and their rescue mastiff/pitbull — who is named Aure, or Marcus Aurelius, for the philosopher, her "absolute favorite." She is also a lifetime learner and is finishing her master's degree— with plans of continuing for a Doctor of Nursing Practice (DNP) degree.
Tiffany's favorite thing about the job is her patient care team. "They work hard every day to help patients," she says. "They are passionate about their work, committed to improving each day, and in so many cases—more than I can recount—they go above and beyond. It makes me very proud to call them my team."
At Cheshire Medical Center, we are always looking for great people to join our diverse team, from environmental services techs and security officers to nurse assistants and surgeons—it takes a village to staff a hospital. To learn more and view open positions, visit our careers page.