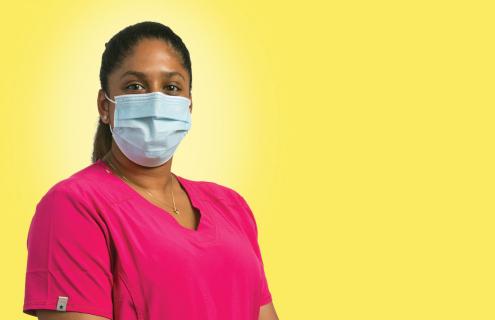 Tessa Morey views every day at Cheshire Medical Center as another opportunity to brighten someone's day. As both an environmental services technician and transporter, shuttling patients to different parts of the hospital, Tessa regularly touches the lives of so many.
"I like working with the public and helping make a difference, even if it's as small as asking someone how their day is going," says Tessa, who has worked at Cheshire for two and a half years. "I just love working in the friendly environment here at Cheshire Medical Center and knowing there is so much room to grow."
Tessa grew up in nearby Saxtons River, Vermont, and attended Bellows Falls Union High School. Before coming to Cheshire, she worked as a housekeeper at Landmark College, in Putney, Vermont. She wanted work where she felt like she was helping people, and her prior experience and outgoing friendliness made her ideally suited to contribute at the hospital.
"My prior experience was also in housekeeping, but when I came here I got to interact with patients, and that experience allowed me to take a transport position that I really enjoy," says Tess. "I love everything about transport, but especially the rewarding feeling of helping. You meet so many different people throughout the day, and the majority of them are very happy to receive the help."
Tessa's roles are crucial to successful operations and the quality of care at Cheshire, and she will be the first to admit that every day is not easy. But the rewards are many, and the professional training and growing responsibility have been welcome perks for her.
"You have to be a bit self-motivated, but at the same time be willing to be a good team player," she says. "You have to be able to multitask—to be interrupted and able to remember where you left off. Some days can be hectic and other days are calm, but at all times you have to maintain a professional setting, remembering that you are working around doctors, nurses and patients."
"I like the warm, welcoming environment here at Cheshire Medical Center. What drew me to seek a position here was knowing that I get to help make someone's day a little better. Also, there is so much room for someone young like myself to grow, if I so choose to further myself in any career field here."
At Cheshire Medical Center, we are always looking for great people to join our diverse team, including many non-clinical positions. To learn more and view open positions, visit our careers page.