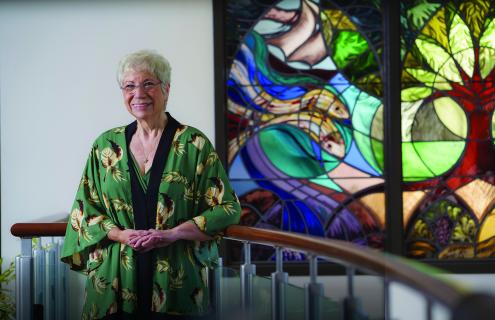 I never thought I'd be on the other side of a defibrillator.
Pauline Johansen, RN, of Troy, New Hampshire
Pauline Johansen, RN, remembers raking some leaves in her yard on Sept. 17, 2021, in preparation for hosting a wedding party for her only grandson's upcoming nuptials. Her next memory is lying in the Intensive Care Unit (ICU) at Cheshire Medical Center, a member of Dartmouth Health, recovering from cardiac arrest.
Put simply, Johansen's heart had stopped. She was unconscious and wasn't breathing. And if it weren't for the heroic efforts of her quick-thinking Troy neighbors, she would have died.
"I never thought I'd be on the other side of a defibrillator," says Johansen, who has worked as a registered nurse in the same Cheshire ICU for 43 years.
Sisters Emma and Camryn Carey just happened to be driving by as Johansen lay on the unraked leaves. They quickly called 911. Guided by the dispatcher over the phone, Emma performed chest compressions for more than seven minutes until first responders from the Troy Police Department and Fitzwilliam Fire Department arrived on the scene to take over.
"It's amazing that someone could do that," says Johansen, whose heart began beating again after several more minutes of cardiopulmonary resuscitation (CPR) and shocks from a defibrillator.
"It's more than just luck. There was some divine intervention."
Johansen spent a few hazy days in Cheshire's ICU and inpatient Thompson Unit. "I kept asking repeatedly what happened to me," she says.
Ultimately, her care team placed a stent in one of Johansen's coronary arteries and fitted her with an automatic implantable cardioverter-defibrillator (AICD), a device that monitors her heartbeat and delivers an electrical impulse or shock to the heart when it senses a life-threatening change in the heart's rhythm. She then completed almost two months of cardiac rehabilitation at Cheshire.
Johansen says she has a "profound" appreciation for the people who cared for her during her recovery, from those in the ED and ICU to the Thompson Unit and Cardiac Rehabilitation—and everyone in between.
"They call me their star patient," she says, "but, really, they're the stars."
In 2021, Johansen was one of 10 people in the Monadnock Region of New Hampshire who experienced sudden cardiac arrest (SCA) and were saved by the heroic and lifesaving efforts of 911 telecommunications, bystanders who performed CPR, law enforcement officers who used an automated external defibrillator (AED), and other first responders.
In June, 2022, Johansen, her husband of 53 years, and two children met both Carey sisters, their family, and others involved in her rescue. The first annual "Rescuers Reuniting with the Rescued: A Celebration of Survival" at Best Western Plus in Keene brought together SCA survivors and those involved in their survival.
"I wanted to thank my guardian angels," Johansen told The Keene Sentinel.
"We want to celebrate these remarkable saves and promote awareness," says Jim Suozzi, DO, associate medical director and EMS medical director for Cheshire. "Our region is very fortunate to have high bystander CPR rates–around 70%. This is likely due to telecommunicators at 911 recognizing patients who are in cardiac arrest and directing bystanders to perform CPR."
When someone goes into SCA, every second counts. Knowing CPR and how to use an AED could save a life. If SCA occurs outside the hospital, the survival rate is around 10%. When the person receives CPR and shock therapy from an AED, the survival rate is over 50%.
As for that wedding, it went off as planned 15 days after Johansen's heart attack.
"I was there," Johansen says, "and I danced my heart out. I don't remember much. But I danced!"
Johansen, now 72, returned to the ICU several months later—working 24 hours a week caring for other patients. Her blood pressure and cholesterol are "perfect," she reports after a recent check-up with her cardiologist. She's able to exercise, using a stationary bike to ride 6 to 7 miles a day.
On the one-year anniversary of her near-death, on Sept. 17, 2022, Johansen hosted a "Rebirth Day" party on her front lawn. She invited the Carey sisters, as well as the Fitzwilliam and Troy first responders, who weren't able to make the June event.
But first, she had to do some raking.
"That work never got done," she says with a smile and just the hint of a tear.
 
Be prepared to save a life
If you are called on to perform CPR in an emergency, you will most likely be trying to save the life of someone you love: a child, a spouse, a parent, or a friend. 
•    Watch a video about hands-only CPR from the American Heart Association.
•    Take a self-paced, online CPR/AED course from the American Red Cross. 
•    Monadnock Region residents can also contact healthymonadnock@cheshire-med.com for information about upcoming in-person trainings.