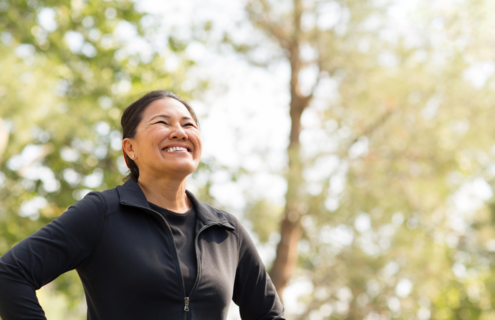 The proven benefits of an active lifestyle include better sleep, weight stability, lower stress levels, better mental health, less chronic pain, and a stronger immune system.
"Our overall health is really critical to protecting us," says Don Caruso, MD. "For example, how do we improve our immunity? It really has to do with a healthy lifestyle. It has to do with staying physically active, eating appropriate meals."
Most people sustain physical activity as part of a lifestyle (rather than an on-and-off gym habit), taking part in a range of activities we enjoy on a regular basis. So here are a few out-of-the-box ways to get moving outside:
Creating with the scenery
Take long walks in the name of art! Most of us have mobile phone cameras to capture landscapes and close-up nature photography. However, you can make fun art projects with found objects too. From collages and mosaics of many textures to mobiles and sculptures, you can turn treasures from your adventures into crafty creations. Here's some video inspiration from Phoebe Paints, San Jose Museum of Art, and Andy Goldsworthy.
Studying the world
There is so much to explore and learn about outside! Try logging sightings in a bird-watching app like Audubon, or Larkwire that turns learning bird sounds into a game. Leafsnap is a tree identification app from the Smithsonian Institution and iNaturalist from National Geographic Society has "missions" where you can add to crowdsourced observations used for science.
Produce picking
Instead of hitting the grocery store for your fruit and vegetable needs, try picking your own at a local orchard or farm to get it right from the source. The Cheshire County Conservation District website hosts a list of farms where you can get some steps in, soak up the scenery, and buy delicious food!
Plogging
'Plogging' is a Swedish term that refers to picking up litter as you explore the outdoors, so you can keep the countryside beautiful for years to come. Hit the streets and bike trails with gloves and a bag for a bit of exercise, and enjoy the knowledge you helped keep our corner of the world clean!
Picnics and parties
Many locals think of picnicking as a romantic or solitary activity while hiking in the woods around us. But you can also gather your friends in a local park or garden with horseshoes, badminton, volleyball, or any number of games that get everyone moving.
Picnics or a good way to gather because each family can bring their own food. While unhealthy foods are often represented as the focus of outdoor gatherings in advertisements, this doesn't have to be the norm. Set the standard by bringing nutritious food that celebrates the abundance of fruit and vegetables available during warm weather—food that nourishes and energizes you for fun activity instead of weighing you down.