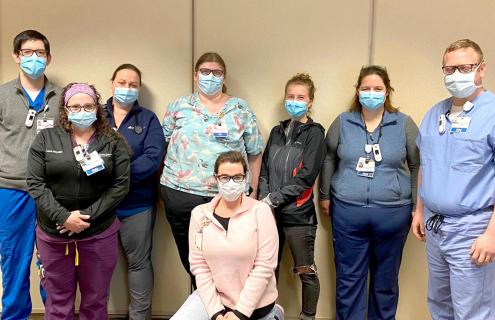 Ten years ago, Margaret "Maggie" Bard, RN, CMSRN, started her nursing career in the Float Pool at Cheshire Medical Center. Even as a new nurse, she was passionate about following evidence-based practices to provide the best care.
Two years into her career, a colleague suggested she join the Nursing Practice Council. There are two nurse-lead shared governance councils: one for acute care and one for ambulatory care. Both councils focus on nursing practice, quality, and education/competency. Both include nurse representatives from each patient service area and meet monthly to discuss interdepartmental practice issues that impact patient care.
The Nursing Practice Council also meets monthly with nurses from all over the organization. It ensures that changes in nursing practice are carried forth across all areas of patient care—defining, promoting, and supporting evidence-based professional nursing practice. Maggie served as a member for a few years then accepted the position of co-leader.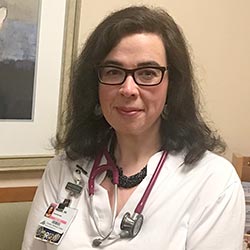 "It's important to have a representative from each nursing area on the Council," Maggie says. "Having full capacity and representation makes the Council powerful. It broadens our work."
That work includes reviewing new policies and procedures, which may sound straightforward but is far from it. "We do a lot of research," Maggie says. "We want to know what the evidence shows is best practice, what other hospitals are doing, and what other nurses are doing."
Maggie says the Council helps identify gaps in policy by reviewing documents word by word, line by line. "If we are concerned with the evidence, we stop the meeting and grab a trusted nursing resource and fact-check the policy for accuracy."
A goal of the Council has been to empower non-managers as much as possible to do this work. And although Maggie holds no official leadership position, she is respected by her peers as one.
"She is an exceptional nurse who, through her many years of experience and leadership on the Nursing Practice Council, has helped to identify, investigate and advocate for vital practice changes within the organization," says Michelle Langholff, RN, BSN, from Quality and Risk. "Maggie is always willing to lend a helping hand and give her expertise on patient safety projects."
A quick example: In October of 2020, the Council had a suggestion for a new kind of equipment. After a literature review, discussions with Infection Prevention, coordinating with vendors for training, and talking with many organizations using it, the product will be piloted this May.
After many years on the Council, Maggie reflects upon her colleague's suggestion to join and wants to encourage others to do the same.
"I have really enjoyed working on the Council," says Maggie. "I have learned so much. I feel like I am a better nurse because I am on the Council. It is a great way to keep learning and have input on how my job is done. It is not a matter of having the most knowledge; it is a matter of having a great interest in doing your job in the best possible way and using evidence to better your practice."