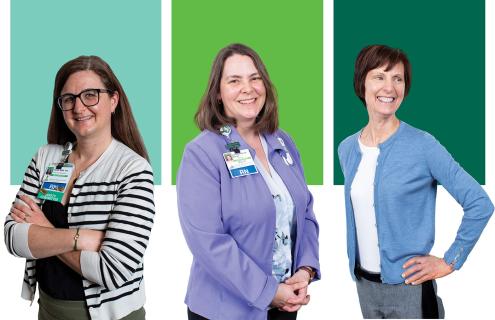 While Cheshire Medical Center does boast scrub-wearing superheroes among our nursing ranks, many nurses report to work wearing "normal" clothes—and all sorts of different hats.
Their roles often draw from their clinical background but demand other specializations and nuanced skill sets. While they aren't bedside like other nurses, they are still integral to ensuring our patients receive quality care at Cheshire.
Angie LeFebvre, MSN, BSN, RN, director of Quality and Patient Safety, says her accreditation and regulatory compliance work is foundationally linked to patient safety. "Every regulation, every rule, is grounded in evidence and best practice. By assuring adherence to these rules, we can confidently say that we are giving the best possible care. It's nice to know that my work is directly tied to patient outcomes."
Patient outcomes are also directly tied to the work of Ellen Loughney, BSN, RN, who specializes in quality and patient safety.
"Nurses in this specialty help make care safer for our patients, and our work helps prevent errors and harm," says Ellen. "My favorite part of my work is working together with staff to identify and implement changes that have made care safer and helped prevent patient harm. I have the ability to be part of positive change and make things better."
Deb Chamberlain, MSN, RN, works in Nursing Informatics, which she says combines the knowledge and wisdom of nurses with computers, technology, and health information. "Informatics supports our frontline clinicians in the use of our electronic tools, bridging the gap between clinicians and IT," she says. "It improves communication among health care professionals by providing accurate information about their patients, which lets them make the best decisions for treatment."
Like all nurses, those in "scrubless" specialties have found a special place for their important work at Cheshire. Ellen says, "The best part of working at Cheshire is the staff in other areas, who don't have 'patient safety' in their job title, yet believe that patient safety is a core part of their job. I also appreciate the amazing, supportive co-workers in my department—every day, I am grateful to work alongside them."
Angie agrees that Cheshire's strength is the people. "Cheshire Medical Center is small enough that we know each other and understand how each of our roles contributes to the bigger picture and how our work affects our patients," she says.
For more about nursing at Cheshire Medical Center, visit cheshiremed.org/nursing