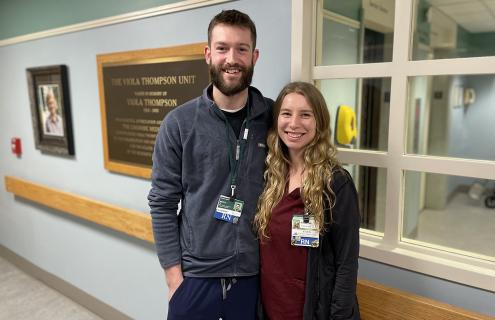 One of the things I enjoy most about Cheshire is the close-knit community of staff. So many people were so excited when we got engaged.
Mike West, RN
It's safe to say that Mike West, RN, lives life one adventure at a time, whether it's hiking, snowboarding, rock climbing—you name it. So working as a travel nurse in the shadow of the Rocky Mountains should have been his dream job. But when faced with deciding where to put down roots, it was the people—one in particular—that called him back to Cheshire Medical Center.
Mike, a Nottingham native from the Seacoast area of New Hampshire, spent 10 months in 2019 working on Cheshire's inpatient Thompson Unit as one of his first travel nurse positions.
"I loved the people there," says Mike, who attended Great Bay Community College in Portsmouth. "It was a good floor to work on. I felt at home pretty quickly."
He even struck up a friendship (and text thread) with another nurse on the Unit, Kylee Ojala, RN. Both outdoor enthusiasts, Mike and Kylee began to get to know each other outside of work, including taking a trek up nearby Mount Monadnock.
"Monadnock is a true gem in this region. The views are awesome, and there are so many different trails to explore," Mike says. "This is a great area for hiking."
But still in his early 20s, Mike wanted to see the world, so he signed a 6-month traveling nurse contract that landed him in Colorado Springs, Colorado, where he enjoyed all that the Rocky Mountains had to offer: hiking, snowboarding, rock climbing. 
In between texts to Kylee, of course. "She was always in the back of my mind," he says.
In the spring of 2020, Mike was approaching the end of his contract at Parkview Medical Center in Pueblo, Colorado, when COVID arrived and put a fork in the road: Extend his contract in Colorado or return home to the Granite State. Return to Kylee.
"To be honest, when he left for Colorado, I wasn't sure if I would ever see him again," Kylee says. "When I heard he was coming back to New Hampshire, I was giddy with excitement."
So Mike returned to NH, took up a contract at Alice Peck Day Memorial Hospital (another member of Dartmouth Health) in Lebanon—and reconnected with Kylee.
"That's when we really started spending more time together," he says. "We're very outdoorsy, so we hiked quite a bit. It took a few nudges for us to be 'officially dating.'"
Halfway through that contact, he found an apartment in Jaffrey, about 5 minutes from Mount Monadnock, "so I can hike just about whenever I want," he says—and decided to return to Cheshire. 
This time, for good.
Soon after, Mike and Kylee went on their "real" first date. You guessed it: They went hiking, conquering the summits of Mount Flume and Mount Liberty in the White Mountains of northern New Hampshire.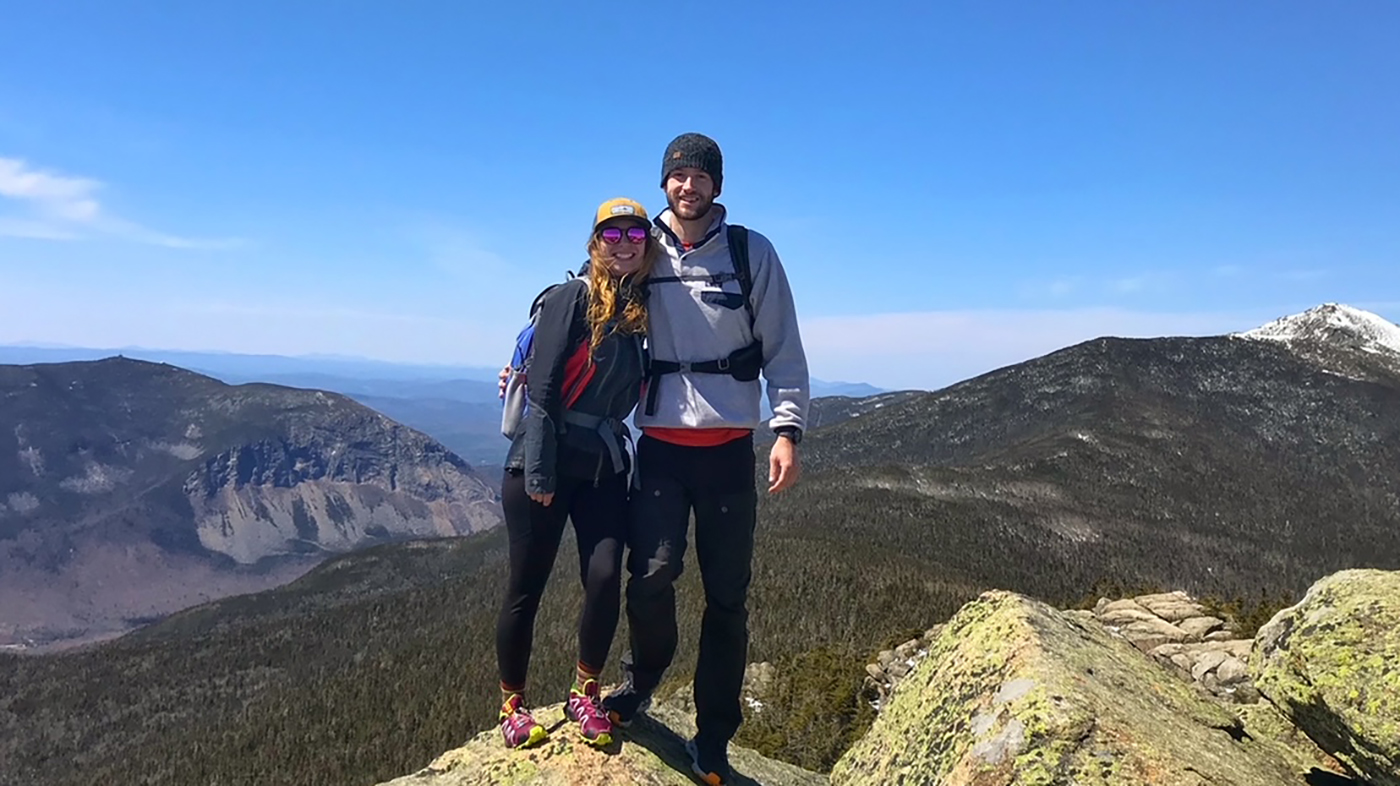 "We only work three days a week, leaving us plenty of time to explore," Kylee, 26, says. "Once, when we knew there would be fresh snow overnight, we brought our snowboards to work and left directly after our shift for a day on the mountain."
One year and countless adventures later, Mike and Kylee were married on Sept. 18, 2021, in a small ceremony in Greenfield, New Hampshire.
"One of the things I enjoy most about Cheshire is the close-knit community of staff," Mike, now 27, says. "It was cool to see how many people were so excited when we got engaged."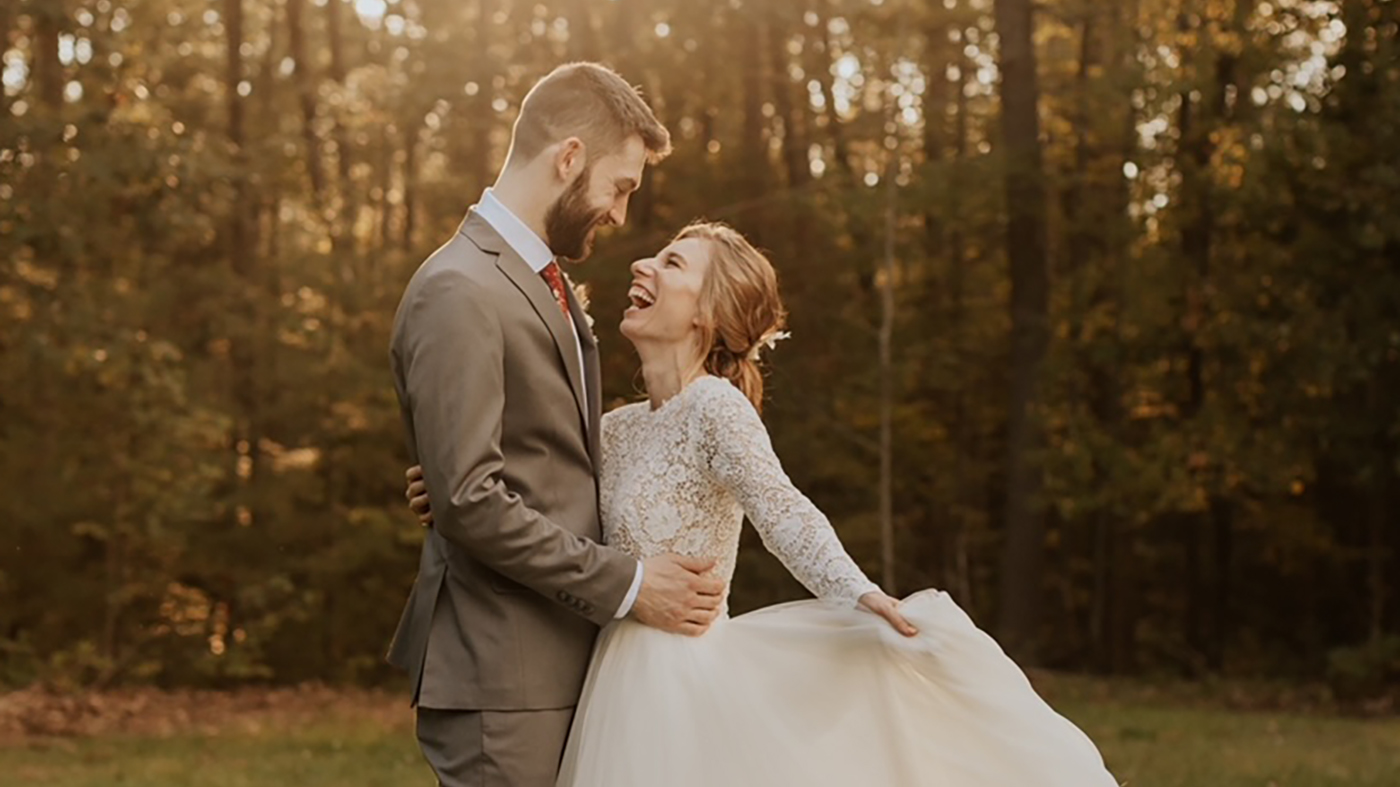 And while Mike's traveling career has taken him to much larger hospitals, he thinks Cheshire is the perfect fit for him. It's big enough to have the advantages of a large medical center but small enough to allow for familiarity with your co-workers.
"I like to know who I'm working with," he says. "During a shift, I often need to transfer a patient to a different department, order an X-ray, or refer to Specialty Medicine which involves interacting with co-workers. It's nice to know those people and have a relationship with them."
Since Mike's return, he's worked in Cheshire's Emergency Department—at the absolute height of COVID—and on the Kingsbury Unit, another one of Cheshire's inpatient departments. Now, he serves the entire Medical Center as a nursing supervisor, a role he embraces.
"As nursing supervisor, I get called by every floor to help out, whether someone has questions and needs guidance or needs me to grab supplies for them," Mike says. "My experience working in different hospitals and on different floors has definitely helped out."
As far as that itch to travel and try new things, Mike says he's actually found that can be fulfilled within Cheshire.
"It's crazy how versatile being a nurse is," he says. "You can stay in a hospital and work in 10 different departments over the course of 10 years—or until you find your home."
Conversely, Kylee—now Kylee West—has worked in the same department for more than 4 years. "I guess we just balance each other out," Mike says.
Mike and Kylee usually work similar shifts on the same days, so they can commute in one car—a black Jeep Cherokee with the license plate "HIKE" that they recently fitted with a rooftop tent for overnight trips. They say their managers have always helped align their schedules so they can maintain a great work/life balance.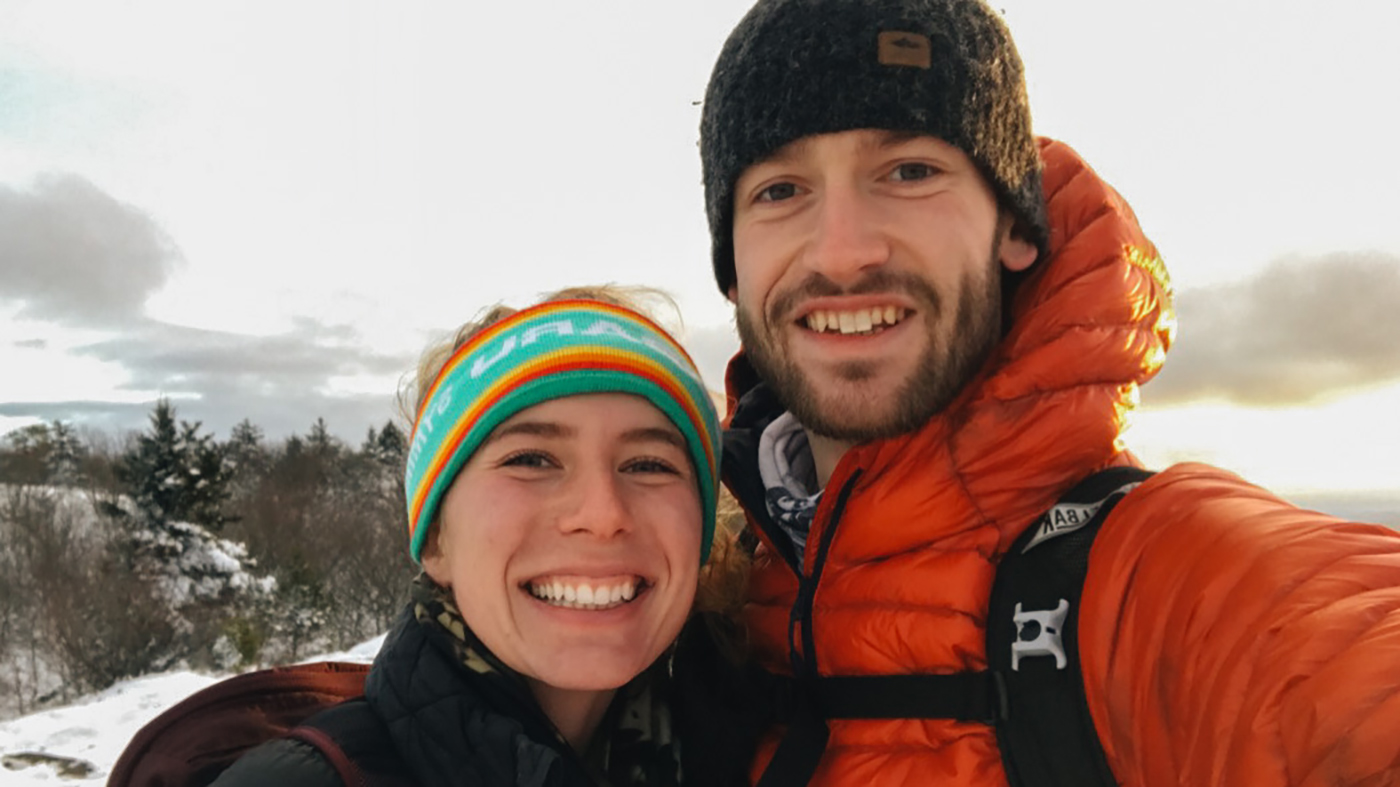 "Not everyone gets to work the same days, same hours, and at the same place as their spouse," Kylee says. "We're lucky. We get the same days off during the week to adventure. It's like working the same days as your best friend. We get to commute together, which saves on gas. Plus, I get to be chauffeured to work every other shift, which is quite nice, I must say."
Looking toward the future, Mike says he's considering pursuing his CCRN, a critical care RN certification that includes 2 years of acute care (such as Emergency Medicine nursing) and a certification exam. If he does go back to school, he knows Cheshire will be there to support him with programs such as scholarships and loan forgiveness.
And while New Hampshire doesn't offer a quick trip to the Rockies, the couple enjoys exploring all the Monadnock Region has to offer, including afternoon mountain biking right in the city of Keene at Drummer Hill Conservation Area.
"We can get off work, hop on our mountain bikes, and do some runs," he says. "I know quite a few docs who do the same."
As for their hiking exploits, Mike is on the verge of joining New Hampshire's Four-Thousand Footer Club, climbers who have summited all 48 of the state's 4,000-foot mountains. 
"I've actually completed 42 of them," Mike says. "Kylee has done a lot of them with me too. My goal this summer is to complete the rest.
See? Always looking for the next mountain to climb.
"We've both always been very adventurous, but the adventures have only gotten better since we met," Kylee says.