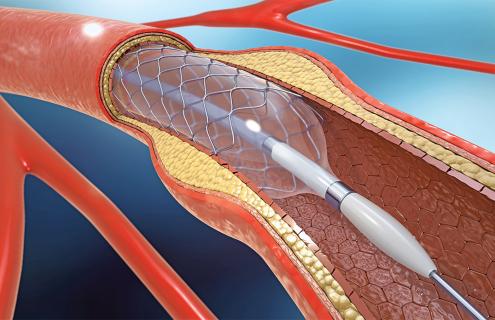 Some people who visit Cheshire with chest pain or discomfort have non-heart-related conditions like anxiety, gastroesophageal reflux disease (acid reflux), an ulcer, or a hiatal hernia. But if these problems have been ruled out, many patients are candidates for a cardiac catheterization to determine if a heart condition is causing the symptoms. 
While catheterization is a relatively simple procedure that takes only an hour or two, in the past Cheshire's patients had to wait several days for a bed to open at Dartmouth-Hitchcock for access to the so-called "cath lab." This could mean spending up to a week in Cheshire's progressive care unit (PCU).
To solve this problem, staff at the two medical centers worked together to create an innovative new program, transporting patients to DHMC's outpatient cath lab within a day of arriving at Cheshire.
When a patient comes in and they need more tests, we admit them to the PCU, then send them by ambulance to Dartmouth-Hitchcock. They come back here, spend the night, and then they are discharged—reducing their admission to only a few days. We are keeping the care here where people are most comfortable.

Christine M. Driscoll-Carignan, RN, clinical leader of the progressive care unit
How can catheterization help cardiac patients?
At DHMC, a catheter (a long, thin tube) with an X-ray camera is inserted in an artery in the wrist. Experts use that camera to locate any possible blockages in or narrowing of veins, which can cause heart pain.
While the procedure is underway, the catheter can help cardiologists diagnose and even fix heart problems in a variety of ways. For example, they can check the pressure and oxygen levels in the heart while also evaluating its pumping function. They can also make sure a patient's heart valves are operating correctly and take tissue samples to assist with a diagnosis.
Catheters are also used in a procedure called an angioplasty, where a narrowed artery is widened with a small balloon. Often, after angioplasty, a stent is installed to help keep the artery open. Catheterization can also be used to repair or replace damaged or defective heart valves and in a procedure called ablation, which corrects an abnormal heart rhythm.