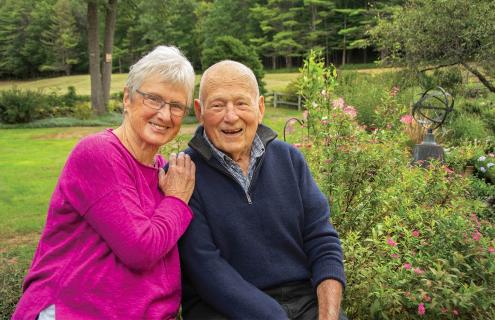 Even in the midst of his own health concerns, Joe Baute has always remained true to one of his defining traits. Joe is a gentleman who has spent much of his life listening to and learning about others. It springs from his inherent inquisitiveness.
Joe considers himself fortunate to have received excellent care under the compassion and skill of the nurses at Cheshire Medical Center during a series of inpatient stays over the years. He has never considered those days of convalescence to be wasted ones—particularly the middle-of-the-night chats when sleep eluded him; they gave him the opportunity to use his trademark inquisitive nature to get to know the nurses as they cared for him, and understand more about their own lives, hopes, and dreams.
"It's hard for the nurses to get work done," says Joe's wife, Stephanie, with a smile. A longtime volunteer in patient care at Cheshire with her service dog, a standard poodle named Charlie, she adds, "Joe has so many questions for them."
Asking those questions and hearing what the nurses had to say led to more conversations, this time with the Philanthropy and Community Relations team at Cheshire. Over time, Joe and Stephanie determined that an ideal way for them to show their gratitude for the care Joe has received was to create a gift to enhance and support the careers of nurses. During the first summer of the pandemic, the Bautes made a gift to establish the Helen Brueckner Baute, RN, Nursing Excellence Funds at Cheshire Medical Center. The gift is named in honor of Joe's late mother, who was a registered nurse.
"Years ago, I had to go to the Nurse Clinic once a month," Joe recalls, "and when you're in there seeing one or more of the same nurses, year after year, you get to know them, how long they've been at Cheshire, what they do outside of work, and about their families. That's where it started."
Stephanie has made her own observations about the nursing staff at Cheshire during Joe's many stays, as well as through her volunteerism with Charlie (and three other service dogs before him) to cheer other patients during their own bouts with illness.
"The way the nurses have of using humor and compassion and listening were very important during Joe's stays," she says. "I felt comfortable when he was there; he was safe and in excellent hands."
The true spark of Joe's appreciation for the medical profession began with his family. He grew up on a farm in Rhode Island, drafting detailed phone messages for his father, a doctor, and his RN mother, so they could respond to their patients' medical concerns armed with adequate information.
Young Joe often accompanied his father on rounds at the Homeopathic Hospital of Rhode Island, and came to appreciate the responsibility of medical professionals. His mother was "in command," Joe recalls, more than capable of caring for her patients and her four children. She also raised goats and made goat milk soap, wrapping the bars carefully in cloth before selling them to locals. Everything she did, he says, was done well and with compassion.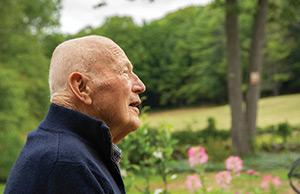 "The discipline was there," Joe says. "You learned early on to do your job and do it well. Mother was a great inspiration; we learned and learned from her."
In the conversations he shared with the nurses at Cheshire Medical Center, Joe recognized his own mother not only in their care and competence but also in their family responsibilities. He also determined that many of them hoped to further their careers and professional education, but were limited by time and financial constraints.
In his many years as CEO of Markem, a Keene-based manufacturer, Joe prioritized professional development for his employees. He grasped the rapidly moving nature of the field, and the fact that many in the workforce needed continuing education to keep up with the latest technology. To combat the gaps in knowledge, Joe brought in engineering professors from Boston to teach machine shop workers about the nuances of the electronic components they were building.
"That was the way we stayed ahead of the curve," says Joe, who spent many years on the board of the original Keene Clinic. "The organization was always learn, learn, learn. I got to see what happens when an organization gets help and offers motivation."
Translating that observation is at the heart of Joe and Stephanie's gift to support nurses at Cheshire. The couple has gleaned through listening that the motivation—and need—for extended education exists among the staff.
The Baute gift provides additional opportunity for professional growth, and will advance the medical center's efforts to achieve the American Nurses Credentialing Center (ANCC) Pathway to Excellence designation, which recognizes the organization's commitment to creating a positive practice environment.
With a goal of improving patient outcomes via advanced education, the funds also offers continuing education opportunities for nursing staff. "I think it's the right thing to do in honor of my mother," says Joe, "and I think she'd be very pleased."
The Baute gift allows for flexibility in the long-term, so the team at Cheshire can adapt to the changing circumstances of health care. "I hope the gift enables nurses' education to be up to speed with what's going on and what's needed tomorrow," says Joe, echoing his vision from Markem.
Perhaps there is no better example of that need to adapt than the current COVID-19 pandemic, which has highlighted a national nursing shortage. That shortage is something of which Chief Nursing Officer Amy Matthews is keenly aware, and why the timing of Joe and Stephanie's generosity can help Cheshire Medical Center attract and retain a robust and well-qualified nursing staff for years to come.
"It's such a gift to know we have a couple in our community who would invest in this profession so we can improve the care of patients and the practice of our profession," says Matthews. "It's meaningful and touching—of all the things they could support, the Bautes are not only supporting us in health care but investing in nursing itself."