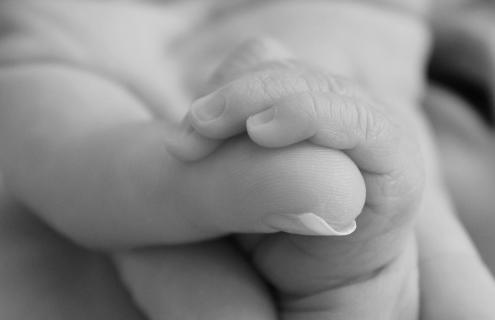 In 2016, Cheshire Medical Center launched Mothers in Recovery (MIR), a program offering expectant mothers with opioid use disorder a combination of medication-assisted treatment (MAT) and comprehensive prenatal through post-partum care−delivering a healthier start for their babies.
"In 2015, overdose deaths in New Hampshire reached an all-time high of 439, most of them from opioids," says obstetrician/gynecologist Karen Bradley, MD, FACOG. "At [the time of publication], the projected number of overdose deaths for New Hampshire in 2016 is 478. Per capita, our state has the second-highest opioid-related death rate of any state except West Virginia.
"It's a real problem, and pregnant women aren't immune," she adds. "These moms are members of our community, and it's really important to give them the compassionate care they deserve, not only for themselves but for their babies,"
This compassionate care begins with SBIRT—Screening, Brief Intervention, and Referral to Treatment—for every mom who comes to the center. This evidence-based practice helps identify women who may be misusing alcohol and illicit drugs.
"This is a universal policy; we don't profile patients," explains Mindy Glasschroeder, BSN, RNC-OB, clinical leader of the medical center's Women and Children's Health Unit. "Last year, over 400 women delivered here and, of these, 4 percent scored positive for the presence of opioids. That's significant for a small community like ours."
But pregnant women struggling with opioid use disorder can seek out the Mothers in Recovery program on their own. In fact, the earlier in their pregnancy these moms-to-be get involved with the program, the better their chances of having a safe birth and healthy baby.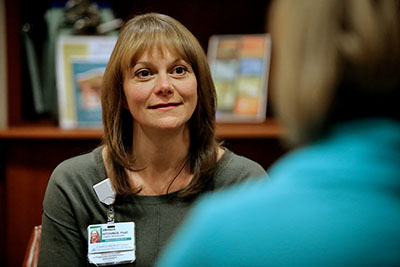 What the program entails
"The program provides medication management, weekly group therapy, and specialized prenatal and postpartum care," notes clinical psychologist Amanda Hitchings, PsyD, who assesses each woman's candidacy for the program.
Medication management involves careful, ongoing administration of a maintenance drug called buprenorphine (brand name Subutex). This medication helps to decrease cravings and manage withdrawal symptoms, increasing the mother's likelihood to be successful in treatment and maintain sobriety.
Group therapy, led by Dr. Hitchings, is held weekly, three weeks out of every four. The fourth week is devoted to group prenatal care, also referred to as the Centering Pregnancy model—a standard part of prenatal care offered at Cheshire. Also standard is the involvement of certified nurse-midwives during every labor and birth.
When MIR babies are born, they are screened for neonatal abstinence syndrome. NAS can occur when a baby is exposed to drugs while in the womb, then goes through withdrawal after birth.
"We partner with the parents so they understand how to comfort newborns who are affected," says Glasschroeder.
Group therapy and medical management also continue postpartum.
"This support is extremely important to help reduce relapse," Hitchings says. "The focus is not only on substance use therapy but just being a mom, and being with others who can understand. Pregnancy is an opportunity for significant change, and these women are in the same place in their lives."
MIR also connects these new moms with community services for home-based case management, parenting support, and home-visit nursing care.
The best thing I can do for my children is to be in recovery. I felt hopeless for the longest time. Now I have real hope for the future. I'm more resilient than I realized. And I'm not alone.

Participant in the Mothers in Recovery Program
A profound impact
The Mothers in Recovery program is having a profound impact on the women and newborns who are part of it. Lana*, 29, is a case in point. She became addicted to opiates after the birth of her first child at a Vermont hospital, eight years ago.
"I had a really bad tear and was in a lot of pain, so my doctor gave me a prescription," she relates. Hers is a common scenario: Of those who began abusing opioids in the 2000s, 75 percent reported their first opioid was a prescription drug, according to national research.
When she got pregnant again, Lana tried quitting cold turkey—and suffered a miscarriage. For the next couple of years, she participated in a maintenance program along with court-ordered offenders, including men.
"I felt like a number, and they treated us like scum," she says. "All you want to do is overcome a situation you feel bad enough about in the first place; you don't want to be made to feel guilty for trying to get better."
When Lana conceived again, she found a Rutland, VT maintenance program for pregnant women. But it ended when the doctor left and a replacement couldn't be found.
"My husband and [by now] two sons and I had the opportunity to move to New Hampshire," Lana says. "I was pregnant again, and so anxious. I called Women's Health at Cheshire about prenatal care and discovered Mothers in Recovery.
"It was amazing—this program is so different," she continues. "The doctors and nurses don't look down on you; they're here to support you, every step of the way."
Lana gave birth to a baby girl. "She tested negative for [buprenorphine] and had no withdrawal symptoms," Lana reports. "She's completely healthy."
Lana also was able to breastfeed, which was important to her.
"We do drug testing during the prenatal period and on arrival for labor, and if there's no other drug besides their prescription in their system, MIR moms can breastfeed," says Glasschroeder, who notes the Women's Health Center provides a lactation consultant. "In addition to proven health benefits, breastfeeding can lessen signs of withdrawal in the baby," she adds.
Because NAS babies have increased caloric needs, breastfeeding moms often must supplement with formula so their newborns don't lose weight. For MIR participants who want to breastfeed exclusively, the program will soon offer a supply of safe, donated breast milk through the Mother's Milk Bank of New England.
Future program enhancements
Additional program enhancements underway including recruiting and training volunteer "cuddlers" for MIR babies, and additional support from the Cheshire Doula volunteer program. Doulas are trained professionals who provide emotional, physical, and educational support to a mother during labor and birth.
While all maternity patients benefit from Cheshire Medical Center's collaborative care model for pregnancy and birth, expectant mothers in recovery from opioid misuse require special support—exemplified by the MIR program.
"All these women want to get sober and wean off maintenance medication, but they know it's what's best for themselves and their babies for now—and that's what motivates them," says Dr. Hitchings.
"The outcomes of our program are very good in terms of patients having improved psychosocial connections, medical outcomes, and, most importantly, healthy babies," notes Dr. Bradley. "This work is some of the most gratifying that I do."
*Name has been changed to protect patient privacy.
To learn how you can participate in the Mothers in Recovery Program, visit Mothers In Recovery or call 603-354-5440.