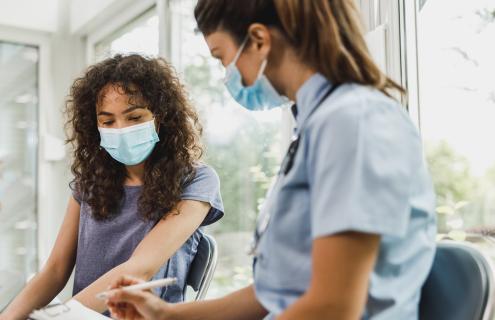 What is forensic nursing?
Forensic nursing is the practice of nursing where health and legal systems intersect.
Victims of violence and abuse require care from a health professional who is trained to treat the trauma associated with the wrong that has been done to them—be it sexual assault, intimate partner violence, neglect, or other forms of intentional injury. Forensic nurses are also a critical resource for anti-violence efforts; they collect evidence and give testimony that can be used in a court of law to apprehend or prosecute perpetrators who commit violent and abusive acts.
Forensic nursing care is not separate and distinct from other forms of medical care, but rather integrated into the overall care needs of individual patients.
Who are forensic nurses?
A forensic nurse is a Registered or Advanced Practice Nurse who has received specific education and training in the care of patients experiencing acute and long-term health consequences associated with victimization or violence. Forensic nurses are specially trained in:
The collection of evidence (from both victims and those accused of victimization)
Injury identification
Trauma-informed history taking and thorough documentation
Collaborating with investigative agencies
Providing consultation and testimony for civil and criminal proceedings
Are there different types of forensic nurses?
Forensic nurses work in a variety of fields, including sexual assault (as Sexual Assault Nurse Examiners or SANEs), domestic violence, child abuse and neglect, elder mistreatment, death investigation, corrections, and in the aftermath of mass disasters.
What services does Cheshire Medical Center offer?
Here at Cheshire, we have a Medical Forensic Care team that includes SANE nurses who are specially trained and ready to care for adult and adolescent patients presenting after a violent or sexual assault. Our forensic nurses take a holistic, respectful, trauma-informed approach to caring for survivors.
Our SANEs will:
Take a detailed history
Offer a full medical examination
Offer testing and prophylaxis for pregnancy and STIs
Offer evidence collection and/or photo documentation of injuries
Based on each patient's specific circumstances and wishes, a SANE can:
Connect survivors with local advocacy services
Help create a safety plan
Coordinate appropriate medical follow up
Collaborate with investigative agencies
Potentially provide courtroom testimony
Currently, our forensic nurses provide medical exam and evidence collection for adult and adolescent survivors of sexual assault but can also be utilized in caring for patients reporting or suspecting of experiencing:
Intimate partner violence
Elder or vulnerable adult abuse
Human trafficking
Other violent crimes
While the majority of our care occurs in the Emergency Department, the Medical Forensic Care team can be mobilized to other locations in the Medical Center (such as the ICU or Gynecology) to accommodate patient care needs.
"We want our patients to know that they are in control of their exam, they choose which parts of the medical forensic exam are done or skipped, and they can stop or take a break at any time," says Lindsey Cushing, WHNP, SANE-A, a forensic nurse at Cheshire. "Evidence cannot be collected after five days so we encourage people to seek out care as soon as possible if they are interested in this option."
Prepubescent children who have experienced abuse or assault are referred to the Children and Adolescent Protection Program at Dartmouth Hitchcock Medical Center (DHMC) for further specialized care.
How do I contact the Medical Forensic Care team?
Members of the Medical Forensic Care team can be reached through the Emergency Department at 603-354-6600. If you are being seen in Family Medicine or OB/GYN rather than the Emergency Department, you can also ask your healthcare provider to page the Medical Forensic Care team.
Where can I learn more?