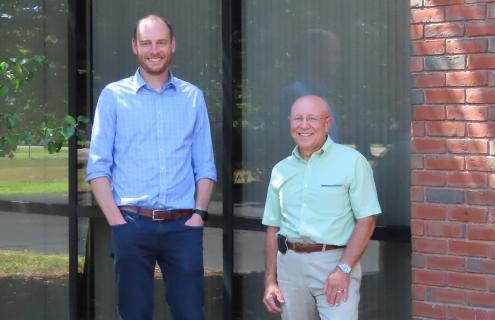 Cheshire Medical Center, a Dartmouth Health member, received a $750,000 Rural Residency Planning and Development grant from the Health Resources and Services Administration (HRSA) to support the start-up of the proposed Family Medicine Residency Program.
The grant, one of only 11 nationwide, specifically supports the development of rural residency programs. Notification of the award was made on June 3 and the grant period is Aug. 1, 2022 through July 31, 2025. U.S. Senator Jeanne Shaheen (D-NH) applauded this investment in Cheshire County.
"The pandemic brought serious challenges to our rural communities that lacked access to quality health care before this crisis emerged. That's why investing in rural health care now is paramount. This $750,000 grant will help train the next generation of primary care physicians anchored in Cheshire County," said Senator Shaheen. "This meaningful investment will not only help deliver quality care to residents, but also invest in a health care workforce that's better prepared for the next public health crisis."
Critical need to train rural family medicine physicians
Training physicians in rural areas increases the likelihood that they will practice in a rural community. The grant—$750,000 over three years—will help to support start-up costs to establish this new rural residency program. Grantees may use the funding to cover accreditation costs, faculty development, and resident recruitment.
The opportunity to add a Family Medicine Residency program at Cheshire comes at a critical time when community health needs require the training of more family physicians. Currently, only two percent of residency training occurs in rural areas. In response, HRSA aims to improve access to health care by funding programs to train more physicians in rural communities through the Federal Office of Rural Health Policy and the Bureau of Health Workforce.
"HRSA's goal of improving the health of communities is in line with Cheshire's vision," said Program Director Karl Dietrich, MD, MPH. "Through the support of the HRSA Rural Residency Planning and Development grant, we are able to invest in training the next generation of family physicians locally, which will have positive impacts on both the health of our community and the future of our primary care workforce. We are grateful for the support of Cheshire Medical Center and Dartmouth Health throughout this process and are excited to welcome our first class of resident physicians."
Steps to becoming a family physician
To become a family physician, students must first complete medical school, earning a degree as a Doctor of Medicine (MD) or a Doctor of Osteopathic Medicine (DO). After earning a degree, aspiring family physicians need to complete a three-year residency in family medicine, during which they continue their clinical education under a training license, diagnosing and treating patients under the supervision of established faculty doctors. Upon completing the three-year residency program, applicants are able to practice as independent family physicians.
Pending approval from Accreditation Council for Graduate Medical Education (ACGME), Cheshire's program will welcome its first six residents in 2024 for a total of 18 residents by 2027. ACGME is a private, non-profit, professional organization responsible for the accreditation of approximately 12,000 residency and fellowship programs and the approximately 865 institutions that sponsor these programs in the United States.
Future location and services
Cheshire's Family Medicine Residency Program will be located at the West Campus at 62 Maple Avenue in Keene, where renovation and construction are underway. Faculty physicians, including Dr. Dietrich, Dr. KrisEmily McCrory, and residents, will provide full-spectrum care to their patients at Maple Avenue and in the hospital. It will complement the existing Family Medicine team at Cheshire's main campus, which serves roughly 45,000 patients and has recently expanded its geographic reach by covering communities beyond their historical boundaries in southwest New Hampshire, thanks to the recruitment of new providers combined with new team-based models.
For more information about Cheshire's proposed Family Medicine Residency, visit cheshiremed.org/residency.