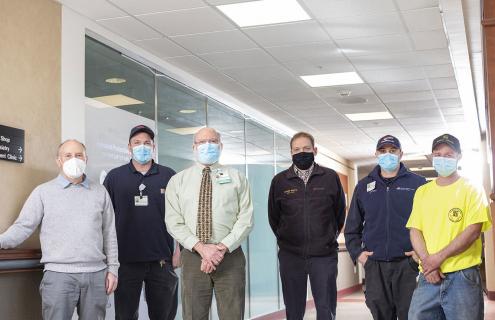 As part of Cheshire Medical Center's ongoing commitment to reducing energy use and our carbon footprint, our facilities team has replaced approximately 2,500 fluorescent light bulbs with new, state-of-the-art LED lights. In addition to energy and cost savings, the new lights will also create a more comfortable environment for employees and patients.
This project reflects two of our core values at Cheshire—community collaboration and making sustainable business decisions. We strive to pursue and achieve measurable, continuous improvement across every aspect of our organization, and this project is a prime example of how local collaboration can lead to a sustainable business outcome that benefits everyone involved.

Don Caruso, MD, MPH, President and CEO, Cheshire Medical Center
Completed in partnership with Eversource and Hamblet Electric, the upgrades provide immediate cost savings and were completed in a matter of weeks. The estimated energy savings are 46,284 kWh annually, which will reduce carbon emissions by 36 tons a year—or the equivalent of planting more than 500 trees. In addition, the upgrades will result in estimated annual energy cost savings of over $5,000 and a reduction in annual maintenance costs of over $7,000, which is significant for our non-profit medical center.
"For many of our business partners, the pandemic has reinforced the value of saving money and reducing energy use through energy efficiency, and we are so proud to have helped Cheshire Medical Center with these upgrades," said Kate Peters, Energy Efficiency Manager at Eversource. "The energy savings and carbon reduction will be significant as the medical center continues its critical work to support the health and well-being of its patients."
The lighting upgrades have not gone unnoticed by our employees. Facilities Electrician Jim Nikiforakis said, "the new lights have made a huge difference in the overall look and feel of the hospital. We've partnered with Eversource and Hamblet Electric over the years for significant energy projects, and I'm thrilled with the speed at which we were able to implement the new lights—no small feat while battling a pandemic at a busy hospital. Cheshire has been, and remains, committed to reducing our carbon footprint while also making our patients and staff more comfortable. This project has accomplished both while also providing cost savings."
The life expectancy on the hospital's new LED flat panel fixture is about 50,000 hours and uses less than half the energy of the old fluorescent bulbs. In a year full of challenges, this significant upgrade is sure to improve the experience of patients and staff for years to come, all while working towards an important sustainability goal.